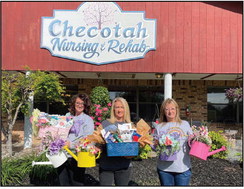 Marie's Heart, a legacy of love continues
On any given day of the week one could _nd Marie Martin volunteering at the local nursing home, Cedar Manor, doing what she loved most – taking care of people. Before becoming a volunteer, Marie had worked as an aide at the nursing home for over 11 years. en when she wasn't able to care for her husband at home anymore, they moved him into Cedar Manor and Marie went three times a day to feed him and even other residents their meals. She also helped with occasional parties and stated that "she just loved older people and helping them made her free good."
is was "Marie's Heart"- a heart that never stopped giving until the day she took her last breath. However, "Marie's Heart" and love for the elderly in nurs- ing facilities still continues today in the legacy of love she le_ behind in her children, grandchildren and even great grandchildren.
Her granddaughters, Joyce Halstead and Julie Coe, along with great granddaughter Jennifer Canard all remember going down to the local nursing home with their grandmother Marie. It was so instilled in the family's bloodline that Jennifer went on to become a nurse due to the in ence of her grandmother who believed in helping others on a daily basis.
Jennifer wrote this about her grandmother: "_ere once was a woman of great merit and worth. As she lived, she served, giving to others all she had to give, neither wanting nor expecting anything in return. As she lived, a true love and kindness encompassed her as she gave of herself to others. For her charity knew no strangers, no limits and no boundaries. It was absolute. For I have chanced by no other in this life, no one more deserving than her to have heard spoken these words from the lips of our precious Savior than… 'Well done thou good and faithful servant.'
Both Jennifer and her mom Joyce now make baskets of goodies to take on a regular basis to residents at _e Blossoms of Mountain View, where they live in Arkansas now. _ey also take out baskets and bingo prizes to other facilities and at the rst of this month they took baskets and ral arrangements to the Checotah Nursing and Rehabilitation Center in honor of their grandmother.
"_roughout my childhood, even back to some of my earliest memories, Granny Martin (Marie) was a central gure in our family," Jennifer said. "She was a constant, unwavering pillar. _at pillar was the simple goodness of her spirit, her unfailing kindness, her charity and her service to others.
"It has shaped every aspect of my own life. It has molded my career paths, my Christian faith, my role as a mother, friend, daughter, and wife, and it has continued to be the driving force within me to try and live up to her memory. I want to live a life she would be proud of, a life that continues what she embodied by helping others and serving others. It is hard to put into a small amount of words on paper the impact of what she represented to almost everyone she knew, and anyone who was lucky enough to have known her. _e elderly always held a special place in her heart.
"My grandmother served many years at Cedar Manor Nursing Home in Checotah. She loved the residence there. I went with her many times as a kid and visited with the residents throughout the halls. I played dominoes with them. I sat with them in the dining hall as they ate lunch. Just simple things, but the impact was great.
"We founded Marie's Heart charity organization in honor of my grandmother's service and dedication to caring for the elderly throughout her life. We even have an emblem that we put on the lap throws for residents. It says Marie and has an open heart symbol.
"We would like to continue her legacy of love in her honor and her service for the elderly in our own communities and we want to encourage others to also visit their local facilities and just get involved. It doesn't have to be big things that you give. It can just be a little bit of your time.
"We serve a number of long-term care facilities in our area to deliver monthly care baskets to residents that may not have any family, or residents that may just need a little kindness to brighten their day. Our care baskets include lap or blanket throws, pajamas, puzzles, wer arrangements, a variety of tabletop or windowsill decor to brighten their rooms, etc. _e overall purpose is to let the elderly know that they are not forgotten and to spread a little kindness in this world.
"Because we are a small nonprofit our resources are limited, but we would love to be able to expand into as many long-term care facilities as we can with support from our local communities. Anything is possible! So if anyone would like to donate items for care baskets, or make a monetary donation please reach out to us on social media under Marie's Heart where you can follow us and our donations. If any local families or churches would be interested in making their own care baskets for donation, we would be happy to pick them up and deliver them to those in need.
"It's not how much we give or how much we spend or even for the recognition of giving. It's about caring for others out of love, spreading a little kindness wherever we can, and always trying to make someone smile. We're only here on this earth for a little while, but we can continue the kindness that was in Marie's Heart.
"May her life be a testament to those of us that remain to be the hands and feet of Jesus, and thereby embodying Marie's Heart, in all we are blessed to do."
In loving memory of Marie Martin 1918-2009.
Marie Margaret (Coughran) Martin was a lifelong resident of Checotah and had married John D. Martin on Dec. 9, 1933. _e couple were married 56 and raised four children; Jo Bob, August Lee, Johnny and Shirley.
Marie was a longtime member of the First Freewill Baptist Church. She was always dedicated to her community, her husband and her family and le_ behind a legacy of love in her children; 9 grandchildren; 20 great grandchildren and 11 great great grandchildren.