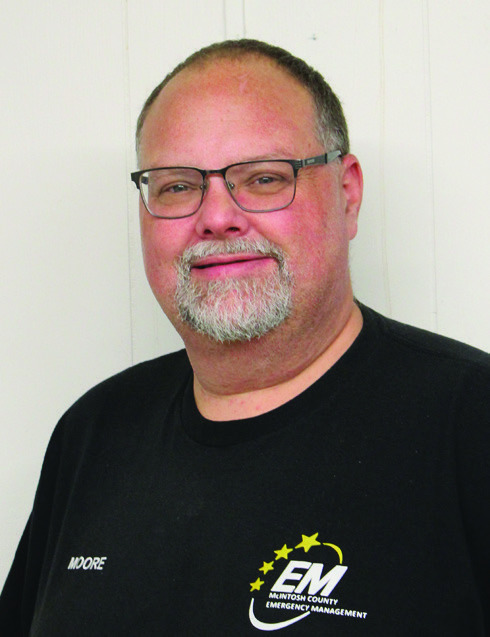 County emergency director resigns
Will take Okmulgee County position
McIntosh County Emergency Management Director Jeffrey Moore has resigned. His final day will be Friday, July 7, and then on July 10 he will begin his new job as Okmulgee County Emergency director.
"After an exhaustive search for [an] emergency management director … Jeff Moore … will be joining our team," said Okmulgee County Commissioner Erik Zoellner during the June 26 commissioners' meeting. "I think we're very fortunate to get Jeff, … he's an experienced emergency management director…" McIntosh County commissioners began interviewing potential replacements for Moore on Friday, when they talked to seven candidates. More applicants are expected to be interviewed this week.
Moore, 49, has been with the McIntosh County Emergency Management for about 15 months. He joined the agency after working as a dispatcher for Muscogee (Creek) Nation Lighthorse Police.
The native of Bethany said he has been in public service since 1992 and likes to go to where he can do the best he can for the community.
"I'm going to miss it here. I was prepared to retire here. This is the second hardest decision of my life to take this new job," he said.
Moore has family in the area, around Pierce.
"I've been coming here my whole life," he said.
The ties with McIntosh County won't be totally cut, since he has family in the area and a girlfriend in Checotah.
Moore is also a parttime officer with the Checotah Police Department.
When he accepted the Okmulgee County job he had an understanding with the county commissioners there.
"If McIntosh County calls me in an emergency, I will come running," he said. "I've got family here and I love the whole community."
There have been plenty of challenges in McIntosh County since Moore arrived.
He came in the middle of the U.S. 69 construction project, a major headache for motorists and an impediment for emergency vehicles.
Perhaps the most heart-wrenching emergency he has faced took place in April, 2022 when a four-year-old boy strayed away from his home and drowned in the Emerald Bay area at Lake Eufaula.
There have been plenty of disasters to contend with. Grass fires. House fires. The recent windstorm that knocked out power from one end of the county to the other, toppled trees, blew down branches.
Moore said we got hit with two punches that night two weeks ago, 50 miles an hour wind from the south that knocked out power in Eufaula followed by a wind he clocked at 72 miles per hour.
But the biggest challenge he said was the tornado in January that hit the Standing Rock, Duchess Creek, Texanna areas.
"In Oklahoma we can have a tornado at any time of the year. I've been chasing tornadoes since I was 16," he said.
Another big challenge for an Emergency Management Director is communications, an important aspect of the job.
"It may be the biggest challenge," he said.
It's a challenge he has met, keeping the lines of communication open with the public; frequently posting weather conditions and all manner of emergencies – whether traffic accidents, drownings or anything else the public needs to be made aware of.
People far and wide are following postings.
"I had a lady from Florida call me who was coming here for a vacation who follows my posts and she wanted information about the weather," he said. "I was happy to help her."
Moore said people don't realize that about 90 percent of the job is relationships – relationships with EMTs, police departments, fire departments, the public and more.
"That's what I pride myself in. Keeping the public aware and informed," he said. "A lot of people follow my page. I keep the community up-to-date. It's not just about storm chasing, it's also about recovery and public outreach."
Moore said he wants to thank the citizens of McIntosh County.
"They've been great. Without the cooperation of the citizens, we're not going to succeed. The citizens are the ones we work for."