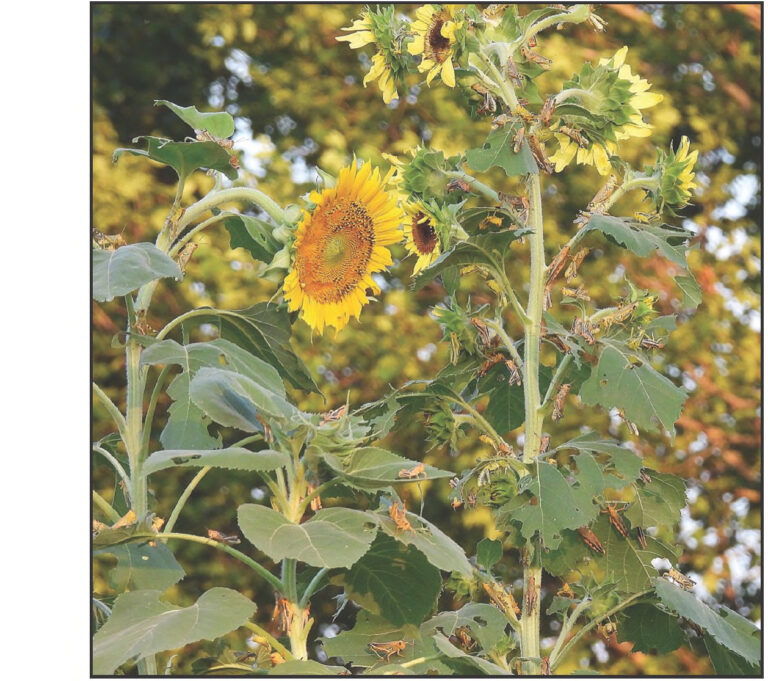 Gorging grasshoppers sweep over the plains
Most Oklahoma farmers know that grasshopper infestations can sweep over their farmlands like a Biblical plague if certain conditions are right, and these conditions are becoming increasingly favorable for these destructive pests in July and August with the threat of drought.
Grasshoppers have been in an upward cycle for causing problems in Oklahoma for several years now experts say. Though they are always a difficult problem to deal with, they are nearly impossible to control, which is the alarming part.
Like something out of an Alfred Hitchcock, these gorging grasshoppers with their sprouting wings can take flight to anywhere which makes it difficult to control their endeavors to consume everything in their path.
Grasshoppers are known to eat 25 – 50 percent of their body weight in a day which is quite incredible. When you compare that to a steer or cow that only eats up to two percent of its body weight in forage a day, you can see why the grasshopper is extremely evasive.
Depending on the level of infestation, grasshoppers can have a significant negative effect on the health of a pasture. Though sprays can be effective against the grasshoppers when they are wingless, once the grasshoppers sprout wings, they can fly for miles in search of food, causing a path of destruction.
Experts say spot treatments of hatching areas or spraying the borders around a field with an approved pesticide can help though. Because grasshopper eggs are often deposited in concentrated egg-laying sites, like pastures and ditches, spraying can hopefully disrupt their hatching cycle. This is why spot applications of a registered insecticide in those areas can effectively reduce grasshopper numbers.
The potential for grasshopper damage to pastures and gardens increases as summer progresses. Then adult grasshoppers will be more likely to move into yards and gardens by late July and August.
With more than 130 species of grasshopper recorded in Oklahoma, the high diversity seems to be the result of Oklahoma's location within the U.S. Because Oklahoma sits toward the center of the U.S., it encompasses a wide variety of ecoregions for several different species. Surprisingly, only five particular species of grasshoppers cause 90 percent of the damage done to crops, gardens and trees.
Grasshoppers annually consume approximately 22 percent of all available forage. Since grasshoppers compete with cattle for forage they can reduce the quality of rangeland much like overgrazing can. On the other hand, grasshoppers also serve as a valuable food resource for a lot of wildlife, especially game birds. So this fact must be taken into consideration when making grasshopper management decisions in rangeland areas.