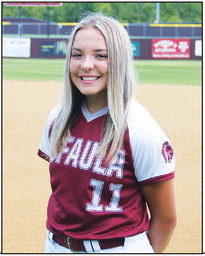 Sports
September 14, 2023
EUFAULA IRONHEADS IMPACT PLAYERS OF THE WEEK
The Eufaula Football Player of the Week is Ledger Fulsom
The sophomore quarterback had a 77-yard touchdown run and 70yard touchdown with a total of 175-yards rushing the Ironheads 63-7 spanking of Tahlequah Sequoyah. Fulsom also passed for 29 yards.
Eufaula Softball
Player of the Week is Avery Williams
Senior pitcher Avery Williams earned her 500th strikeout over the weekend. Williams had three shutout victories in the Lady Ironheads first five games of the season. Williams had a triple with a pair of runs against Heavener on Saturday, was 2-for-2 with two RBIs and two runs against Heavener on Thursday and threw a shutout against Okmulgee on Tuesday.