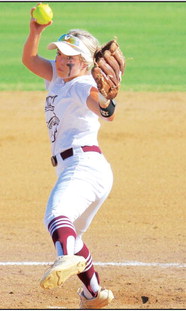 Sports
September 14, 2023
Eufaula Lady Ironheads rout last week's opponents 33-1
The Eufaula Lady Ironheads (13-6) routed Okmulgee 10-0, Heavener 12-0 and 11-1 for a combined 33-1. Eufaula senior pitcher Avery Williams earned her 500th strikeout last week. The Ironheads defeated Okmulgee 10-0 on Tuesday. The team recorded 10 hits in the game. Kate Pippenger put Eufaula on the scoreboard first with a single in the first inning.
Eufaula opened the floodgates as they scored four runs in the third inning and five runs in the fourth to run rule the Lady Bulldogs. In the third inning, Okmulgee struggled in the pitching circle as they walked Kambry Williams and Maddie Ballard before senior Gabrielle Noriega connected for a single and Jadence Efurd swatted a single with each scoring runs.
Kambry Williams led Eufaula in the fourth inning as she hit a single, scoring a run, Ballard singled, scoring a run, and Noriega singled, scoring a run.
Avery Williams earned the win for the Lady Ironheads. She surrendered zero hits and zero runs over four innings. Eufaula head coach Ryan Green saw a lot of effort from his players including Rayleigh Peterson and Avery Williams each stole multiple bases while piling up 13 stolen bases in the game.
Noriega and Pippenger each went 2-for-3 with an RBI, Peterson l-for-2 with runs scored and Jadence Efurd was l-for-3 with an RBI.
On Thursday, Eufaula shutout Heavener 12-0. Eufaula came out fast, scoring three runs in the first inning but was on fire throughout the game as Avery Williams sin-
See LADY IRONHEADS, page B3
Avery Williams gled, scoring a pair of runs, an error-scored run. Maddie Ballard doubled, scoring three runs, Noriega singled, scoring a run and Efurd whacked a triple, scoring a run.
The effort at the plate for the Lady Ironheads was terrific all game as Kambry Williams gave Eufaula a 4-0 lead in the second inning with a big hit.
Avery Williams earned the win for Eufaula as she gave up one hit and zero runs over three innings, striking out four with zero walks. Eufaula overwhelmed the Lady Wolves with eight runs scored in the third inning to seal the victory. Ballard was 1-for-3 with 3 RBIs and a pair of runs, Avery Williams was 2-for-2 with a pair of RBIs and two runs scored and Efurd went 2-for-3 with an RBI and run scored.
In Saturday's action Eufaula dominated Heavener again this time with a 11-1 victory. The bats were swinging for Eufaula as every player got some action. Eufaula took a 7-0 to start the third inning where they scored a pair of runs to make it 9-0. But Heavener spoiled Eufaula's chance for another shutout as they scored a run in the fourth prior to Eufaula's two runs scored in the same inning for a 11-1 win.
Avery Williams led Eufaula at the plate going 2-for-3 with an RBI and run scored. Peterson was 1-for-2 with a double and two runs scored, Kadie Jo Tidwell went 2-for-2 with a run scored and Ballard, Efurd, Noriega each had an RBI.
"High school this week got three district wins. This runs our district record to 9-1 with two district games left to determine playoff seeding. Making solid contact offensively and putting pressure on our opponent is key. Our pitching and defense keeps us in most every game. We've been battle tested and fought in some close games and ready for the competitiveness the end of the season brings our way," Eufaula head coach Ryan Green said.