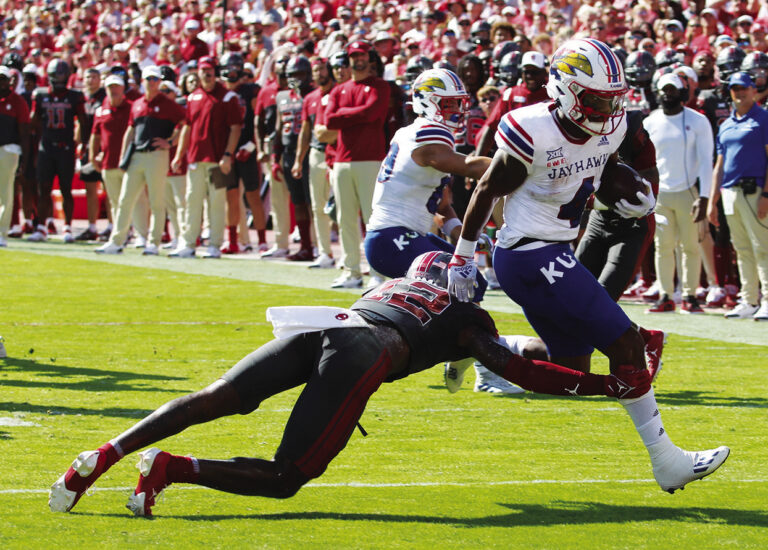 Jayhawks fly high over Oklahoma
The Kansas Jayhawks defeated the No. 6 Oklahoma Sooners for the first since 1997, when they edged OU 38-33. Jayhawks coach Lance Leipold once again exploited a rare luxury and turned the reins over to experienced backup gunslinger quarterback Jason Bean to end an 18-game winless streak in the series and alter the Big 12 picture.
The sixth-year senior played mistake-free football for 53 minutes, a minor miracle on a near-freezing afternoon in Lawrence that was delayed by poor weather, and had positioned Kansas to pull off a generational upset over Oklahoma.
Oklahoma took possession leading by one and needing just a single first down to halt Kansas' hopes.
The Jayhawks (6-2, 3-2 Big 12) looked as if they had squandered their chance to win when, trailing 33-32 with 2:29 remaining, Bean threw an interception. Their vastly improved defense forced Oklahoma (7-1, 4-1) to punt. After two completions and a fourth-down throw that gained 37 yards, Neal scampered in from nine out against what appeared to be an ambivalent defense to give Kansas the lead back.
The Kansas secondary stopped Oklahoma's last-ditch Hail Mary attempt, securing its upset victory 38-33 and introducing bedlam to the Big 12 title race where the conference now has no remaining undefeated teams and a mix of one and two-loss teams.
Bean threw for 218 yards with two interceptions while running for 62 yards and a touchdown. Daniel Hishaw also had two touchdown runs for the Jayhawks, who had not beaten Oklahoma since October 4, 1997.
OU quarterback Dillon Gabriel finished going 14-of-19 for 171 yards passing and three touchdown runs and an interception, and Tawee Walker ran for 146 yards and a score, though the Sooners were left to lament too many missed opportunities and the end to their perfect season.
The Sooners also had three turnovers and 11 penalties for 101 yards.
1 2 3 4 T OU 0 21 6 6 33 KJ 7 10 9 12 38