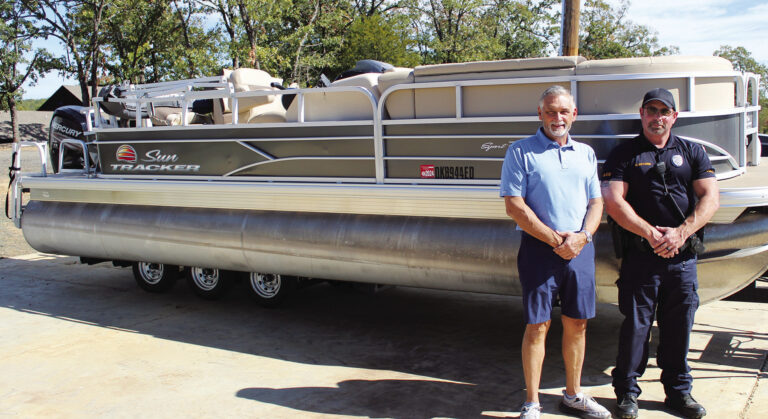 No. 9 Marina donates rescue boat to Eufaula PD
Ask and ye shall receive.
But Eufaula Police Chief David Bryning didn't think he would receive it so quickly.
Bryning went to No. 9 Marina a couple of weeks ago looking for a used boat his department could buy for emergencies on the lake.
Something inexpensive, but functional.
He was visiting with some folks at the marina, explaining what he had in mind.
"I overheard the conversation with David about looking for a rescue boat," said No. 9 Marina CEO Barry Hadlock. "He asked if we had anything used for sale and I mentioned that I occasionally get out and find a boat that might be damaged, rehab it, fix it up."
Bryning thanked him and asked him to keep an eye out.
The chief was stunned when later that evening Hadlock called him and told him he had a boat for him.
It was a 22-foot, 2020 Sun Tracker pontoon boat with a 115 hp Mercury motor. New, the boat was valued at $36,000. Hadlock paid $7,100 at an insurance sale.
"The motor alone is worth twice that," Bryning said.
The boat was damaged by a tornado that hit Norris Marine near Norman last spring.
"It got rolled off the trailer by the tornado. As far as the engine goes, the mechanics and everything is good. It just needs a little cosmetic work on it. It's a fairly new boat, low hours on it," Hadlock said.
No. 9 donated the boat to the police department.
"Barry went out of his way," Bryning said. "He and his partner called me at home that night and told me about the boat and told me they wanted to donate it."
Bryning will be looking for financial help to outfit the vessel to turn it into a rescue boat. It needs "There's nothing wrong with it, but the cosmetics," Hadlock said. "The steering wheel console is broken, but we ordered one yesterday and it should be here in the next two weeks.
"I'm going to go ahead and have service dept go through the engine, make sure it is ready to go. We will remodel it to accommodate whatever it needs to make it a rescue boat."
Bryning said it probably won't be put to use until the spring.
"It's going to be drydocked here for the winter to give time to get it outfitted, built for the needs it's going to have. By the time Spring comes it will be ready to be launched and we will have several people trained," he said.
Changes to the boat that are needed, besides emergency lights, include a flat area with enough room to be able to work on a patient in a medical emergency; enough seating for three to five personnel; secure storage space for medical supplies, tow ropes, diving equipment and other items.
The police department will be working with the fire department and rescue units.
"We will be able to do medical assistance on the water and law enforcement issues. In the past we've had to borrow boats to track down stolen property – other stolen boats, jet skis, that type of thing," Bryning said.
He noted that the fire department is working on getting some people certified for water rescue.
"We will be working on diving – I'm a certified rescue diver. I will be working with guys with the fire department and police department, if that's something that interests them," he said. "We will also work with the county, but I haven't talked with them yet. They have so much going on right now."
When it is put into service it will probably be docked Xtreme RV because of its location.
"Barry made it happen so fast, now I'm playing catch up," Bryning said.