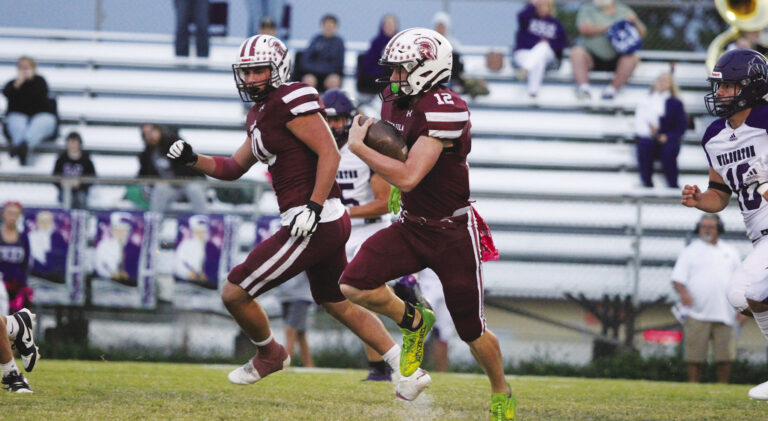 Warriors cruise to District Championship win over Ironheads
The No. 7 ranked Idabel Warriors finally got past district foe Eufaula (7-3, 6-1 Class 2A-6) to earn the Class 2A-6 district championship with a 49-13 dominating performance. The Ironheads looked unfocused on the game while the Warriors took advantage of the situation, especially in the second half.
It was a zero to zero first quarter as both teams felt each other out. The second quarter saw some action as Eufaula took a 7-0 lead after Ledger Folsom dashed into the end zone from 11 yards out. Idabel then took a 14-7 lead to go into the halftime break. The third quarter was all Warriors as they scored on 26-yard and 58-yard touchdown passes and a 12-yard run.
It was the same in the fourth quarter as Idabel scored on a 65-yard interception, followed by a successful 2-point conversion. The Warriors used multiple on-side kicks to retain the football and scored again on a 28-yard touchdown run.
The Ironheads battled back as Peter Lee capped off a drive with a 17-burst into the end zone. Idabel had 334 yards of total offense (174run, 160-passing) while the Ironheads struggled with just 244 total offensive yards, (86-yards passing, 158-rushing).
Eufaula quarterback Led- ger Folsom was 6-of-15 for 86 yards with one interception and one rushing touchdown. Peter Lee had 17 carries for 86 yards and a touchdown.
Eufaula was without multiple players and a coach for the game.
The Ironheads have a chance to continue to play for a state championship, as they will host the Vian Wolverines Friday night at Paul Bell Stadium in Eufaula at 7:00 p.m.