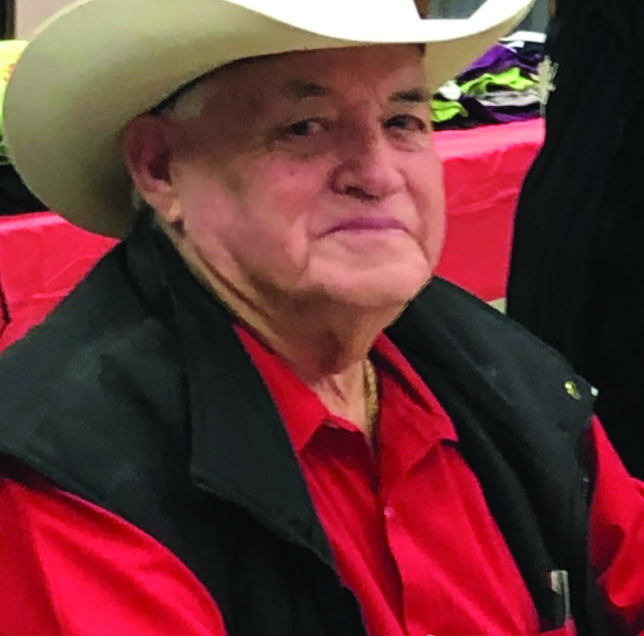 Checotah says goodbye to Billy Dean
Special thoughts by Pickles Dillman
A community of cowboys and friends said goodbye to one of their own. On Friday, April 21, Checotah said their _nal goodbyes to Billy Dean Martin at the First Baptist Church of Checotah under the pastorship of Steve Dennis.
"To say Bill was a colorful character would be an understatement," Rev. Sanford Nero said of his longtime friend, as the community of Checotah said goodbye to longtime citizen and rancher, Billy Dean Martin.
"I honestly have to say I've done my fair share of funerals, but when I found out that Bill had set me up to do his, I have to admit I was a little nervous," Nero said.
Nero laughed as he told stories about Bill to the congregation of their somewhat witty and o_en worn-out on patience friendship of many years.
"If you knew and loved Bill, you knew he loved to argue. He was always bickering with me and talking me into helping him, which meant you owed him somehow. Like the one winter when he said his knees were just killing him too much to get out and feed his cattle during the cold winter months. So I did it plus my own. But miraculously his knees were better come spring."
Nero and others told funny stories that would have surely been approved by Billy Dean if he could have laughed with the large crowd gathered to say goodbye to him, the cussing cowboy with a great big heart for his community and a chewed cigar hanging out of his mouth.
Billy Dean had grown up near Checotah on a farm of his grandparents, Jessie and Ben Combs. A_er graduating from high school and attending Oklahoma State University, Billy Dean returned to Checotah and traveled the rodeo circuit wrestling steer with his uncles, Benny and Willard Combs. He later bought his uncle's ranch and operated the "Question Mark Ranch" which he had the sign "Martin ? Ranch – Billy Dean & …?"
Billy Dean worked the stockyards and used his auctioneering skills, volunteering for Boys Scouts, FFA, and the Checotah Chili Cook-O each year. He was long-standing member of the Heartland Heritage Board and donated many personal artifacts to the museum.
His dedication to the community earned him the McIntosh County Democrat Citizen of the Year in 2011.
However, it was his love for people, especially beautiful women, that really made Billy Dean who he was. Even the cowboys who grew up in Checotah and around Billy Dean learned to respect and love the man who turned out to be a legend in his little town of Checotah.
Perhaps most ting are the words of one cowboy to other. So here is Pickles Dillman's tribute to the man. Dillman grew up in Checotah but now lives in Huntersville, Minnesota.
Dillman wrote: "2,150 miles! Yes indeed! _at's the round trip miles that I drove in the two driving days, of a three day trip from up here in the north woods to my little hometown of Checotah, Oklahoma.
Earlier in the week I had received a message that an old cowboy friend had passed away. I have known this man since I was about 13 or 14 and he o_en had some kind of work for me and a few other little heathens that I ran with back in those days.
We young fellers were from families that didn't exactly have an abundance of wealth one might say. Fortunately this little part of the country that we grew up in had plenty of farms and ranches that could keep us with at least a little jingle in the pockets of our worn-out and o_en miss ting jeans.
His name was Billy Dean Martin, and he was a rough ol' cuss to say the least! He would have no less than a full can of Copenhagen in his lip from sun up to sun down and added to it throughout the day to keep it fresh. When he decided the snu displeased him, he'd take to chewing big cigars like a rat on a wax candle, which pleased us young'uns as it seemed to relax him somewhat and, that in turn gave our backsides a little reprieve from the constant chewing that we took from him, pretty much from the time we started working until he decided we were through for the day. He spat curse words a mile a minute for no apparent reason at times and that's when he was in a good mood.
It seemed payday was always tomorrow but he would feed ya good and give you a ride home when momma would put her foot down a_er three or four days of me being gone cowboying. He'd tease me all the way home because he knew she was gonna make me take a bath and go to church of which, neither one was of interest nor necessary in the opinion of a cocky young cow puncher such as myself at the time. Cows never cared what you smelled like and girls were pretty much nonexistent in my world at this point but, sure as the sun comes up and, within minutes of the preacher closing up the good book at 12:03 ( though he was supposed to be done at 12:00 but he was o_en long winded in my opinion) and I didn't mind watching that clock for those three minutes that would seem like three hours but anyhow, as I was saying, as soon as I could, I would break away from momma, jump in the old _atbed truck a block away where the old cuss would be waiting, I'd d myself back at the ranch. Seems like so long ago now and as sad as it is to admit, it was.
When I arrived at the church this Friday morning, I was a little early which gave me the time to re_ect on the past. I found it ironic that the church where the service was held was the same one that he'd pick me up from as soon as I could slip away from my mom. Bless her! She sure had her hands full, for sure!
Yes, those are some of the memories I had of this man, and before the service to honor him began, that's just how I knew him. Little did I know how much more there was of him.
From the eyes of a boy, that man would always be the hard-nosed turbulent whirlwind of old time cowboy that I've previously described, period. Not a so_ spot could be found on him or in him.
From the eyes of this man that I have now become I see that he was so much more.
Just twenty minutes into the service my eyes were opened up to another side of Mr. Billy Dean Martin and I will simply say it like this, he gave!
He gave from his own to dierent charities. He slipped unspoken dollars to others that were struggling and without expectation of getting it back.
He tithed his money as well as his time to the church, as well as other social events.
_ough I can't recall ever seeing him inside a church, in his own "card under the table way", he made sure me and those other hellyans got inside and probably with a wink and a nod towards our mothers.
_ough it might have been hard to tell at times, he did know Jesus and, before the end, he solidi d that relationship even more, which probably took layers of stress o of ol' Satan himself! Hell wouldn't be big enough for the both of them!
You know, I feel like God has been trying to get a loop around me all my life and I guess maybe, the best way to get a rope around those dusty kids of the past was to put that rope in the hands of a dusty old cowboy. As I looked to my le_ and my right and saw those same kids of some forty years ago, sitting in that same church and now wholeheartedly worshiping our Lord, I'd say ol' Billy Dean could throw a good loop.
Well I guess I'd better end this shortened version of the character of this man of many faces, but before I do, I want to say this.
Anyone! Yes, anyone may or can be an instrument of God! Don't call a man ungodly because of his explicit language, his demeanor, or his rugged exterior. Our Father knows exactly what tool to use and how it will be used in His plan. _e cleanest egg can still have a rotten yoke.
Jesus used not one but 12 _awed men to bring people into His presence. So before you question the rigidity of another, keep in mind, we all have a purpose under the Lord, whether we are aware of being used by Him or not.
I thank You, my Lord, for the mean old crusty, ornery, whip cracking, snu spitting, foul mouthed people that You have put in my life, for they were all needed in Your plan that has brought me into Your presence today."
Billy Dean Martin passed away Friday, April 14, 2023, in Tulsa, Oklahoma at the age of 82.
May we all be better for knowing him and may he rest in peace.