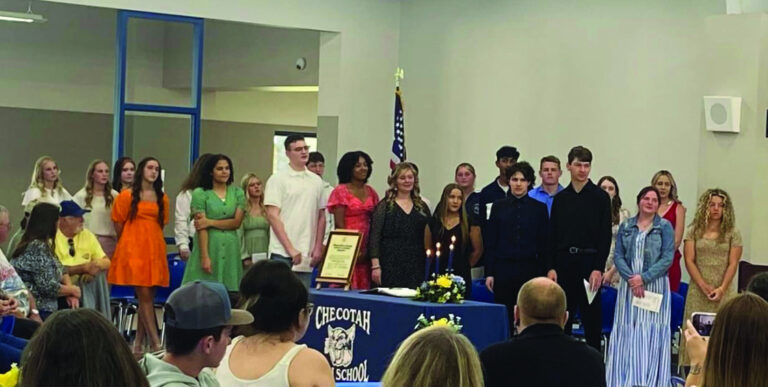 Checotah students inducted into National Honor Society
Checotah High School inducted new members into the National Honors Society on Sunday, April 23.
The National Honor Society was established in 1921 and is a prestigious organization that recognizes academic achievement as well as those who excel in leadership, service, and character.
NHS distributes 600 scholarships worth $2 million each year.
Students are eligible to apply for NHS membership if they demonstrate academic achievement by achieving a 3.65 or higher.
Those inducted included:
Juniors:
Savanna Brown Bailey DuBuque Michael Green
Sophomores:
Alazander Ball Lexie Beene Madison Berry Aiyanna Brewer Maddox Chapman Larayna Chiles Nicholas Chism Madyx Covington Ruby Folkner Ruthy Folkner Sidney Hamilton Jaycee Harrell Tyler Orman Aum Patel Hailey Prince James Rainbolt Mackenzie Roberts Dylan Robinson Blaze Roper Gunner Smith Alyssa Underhill Their motto: "Noblesse Oblige" which means "With Honor Comes Obligation."
The colors: Blue and Gold Flower: Yellow Rose