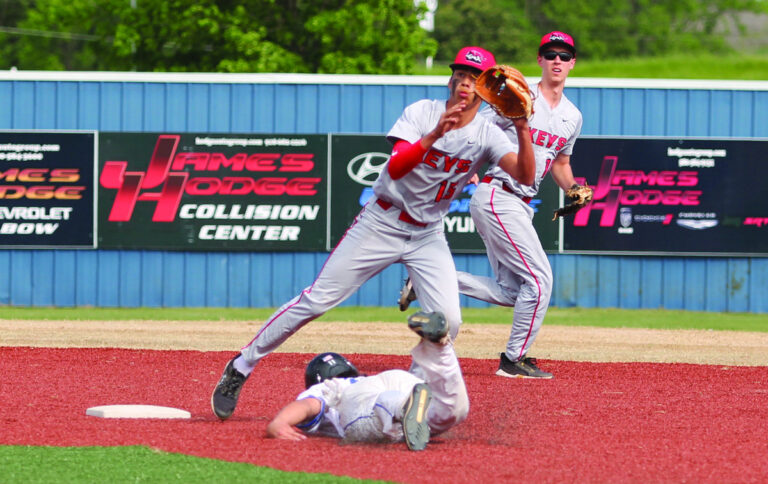 Colcord defeats Wildcats 15-8
The Checotah Wildcats dropped to 9-23 on Saturday as they fell to Colcord 15-8. Colcord led 5-0 at the top of the second inning when the Wildcats scored four runs to end the inning trailing just 5-4. Lane Elliott was on fire for Checotah as the youngster drove in four runners in the loss. Elliott drove in runs on a single in the second, a double in the fourth, and a single in the fifth.
The four runs in the second inning were sparked by Dallas Carter, Bronson Bouher and Elliott.
Carter took the loss for the Wildcats as he started on the mound for Checotah who used four pitchers in the contest. Carter allowed five hits and six runs while striking out three. Sisson, Bouher and Dylan Robinson each contributed in relief for the Wildcats. Colcord tallied nine hits in the game.
Lane Elliott led Checotah from the plate going 3-for-4 with 4 RBIs, Bouher was 1-for-3 with an RBI, Dallas Carter 1-for-2 with a pair of RBIs and Jacob Jones went 2-for-4.
On Tuesday the Wildcat fans came out for the unveiling of the new baseball field. Allen Garrett threw out the first pitch in a pre-game cer- emony. Checotah found themselves in a tough match-up with Keys and came out with a 12-5 loss. The Wildcats came out with energy, scoring a pair of runs in the first inning, a run in the second and a pair in the third to take a 5-4 lead.
Jacob Jones put up the Wildcats' first run when he drew a walk as the Cougars struggled pitching early. The Wildcats were held scoreless for the remainder of the game as Keys put up eight more runs to win 12-5.
Charles Collins had a big game for the Wildcats, as did Lane Elliott. Collins used his speed to steal a couple of bases in the game. Levi Lowe started the game on the mound for Checotah. He surrendered four runs on three hits in three innings, striking out two. The Wildcats used five total pitchers in the contest as Jonah Marshall, Bouher, Jadon Casey and Carter Sisson each pitched in the game.
Elliott led Checotah from the plate going 3-for-4 with a pair of RBIs, Collins went 1-for-3 and Bouher was 2-for-3.
Stilwell defeated Checotah on Friday 12-11 and Central rolled over the Wildcats Thursday in a 10-1 victory.