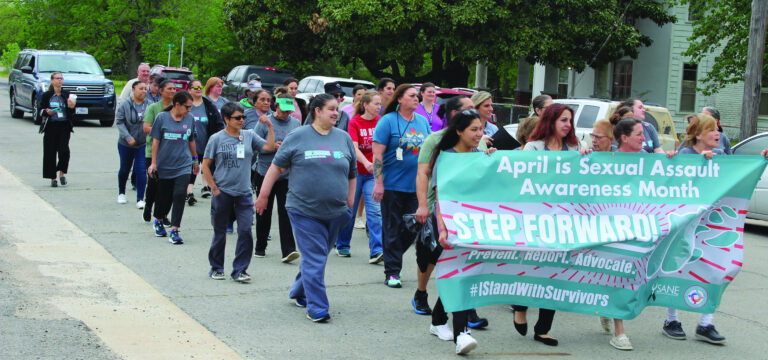 Survivors Walk held in Eufaula
Almost 500,000 people in the United States, age 12 and older, are victims of rape and sexual assault each year, according to the Rape, Abuse & Incest National Network.
April is Sexual Abuse Awareness Month and to show support for those who survive these attacks, the Muscogee (Creek) Nation sponsors a Survivors Walk.
This year's Walk in Eufaula took place at noon Wednesday, April 19.
More than two dozen survivors and supporters of survivors attended the event, which began at Under One Roof, 107 McKinley Ave., and continued through the downtown area, led by McIntosh County Sheriff Kevin Ledbetter and three deputies who joined the march.
Walkers carried a banner through the heart of town to bring the issue of sexual abuse to the attention of people who may not be aware of the seriousness of the problem.
"We do this to show support for the survivors," said Ella Mitchell, with the Muscogee Nation's Victims Services.
April also is National Child Abuse Prevention Month, which recognizes the importance of families and communities working together to prevent child abuse and neglect, said a spokesman for the organization.