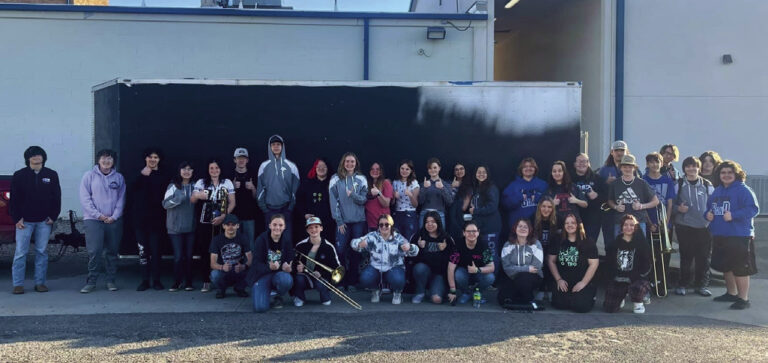 Checotah Band trailer recovered
Inventory destroyed
_e Class of Checotah su_ered a devastating blow to their band program when a thief took o_ with their trailer from the school parking lot over the Easter weekend but now the trailer has been recovered. Unfortunately, the band's inventory which included their Winter Guard equipment, uniforms, props and speakers, valued at over $15,000, has been destroyed.
According to Band Director Ashley Hackler who went on social media to share that the trailer had been found by her brother, District Attorney State Agent Kevin Branscum and o_cer Ron Goad. She also stated it had been painted black and stripped of some metal. Only the uniform rack, plus a cart and an old desk used for props was found inside it.
At this time, this is still an ongoing investigation and no further information has been released.
However, this hasn't stopped the Checotah bands from competing in contests and working extra hard to make back the money to replace their equipment. Even other band booster clubs have reached out to Checotah to help these bandies get back on their feet.
"Recently a band booster representative, Ti ny Rich, from Lone Grove band, reached out to me to say that they wanted to donate some money to us," Hackler said. "eir band donated $1,000 and we were speechless.
"e outpouring of love that we have received from other bands and guard organizations has been so rea _rming of my appreciation for the arts. We are a family and we have felt the love during this stressful time.
"We would like to thank everyone who has reached out for help as well as donated funds towards our GoFundMe. Of the two usable things recovered, the funds will go toward _xing the trailer and also replacing the items that were destroyed."
e band will also be using their Band Spring Concert as a fundraiser this Friday. On May 5, they will have a spaghetti dinner prior to the concert at 5:30 p.m. at the Checotah High School Cafeteria. en the concert will start at 6 p.m. Dinner is $6 a plate but the concert is free to watch. ey hope the community will come out and help support them.
Checotah bands will have the honor of performing the "Star Spangled Banner" at a Dodgers baseball game in OKC on May 6.
A GoFundMe page has been set up under "Checotah Band trailer and Color Guard equipment" to replace the stolen property. If anyone would like to donate to their cause they may also contact Ashley Hackler or call Checotah Public Schools at 918-4738000.