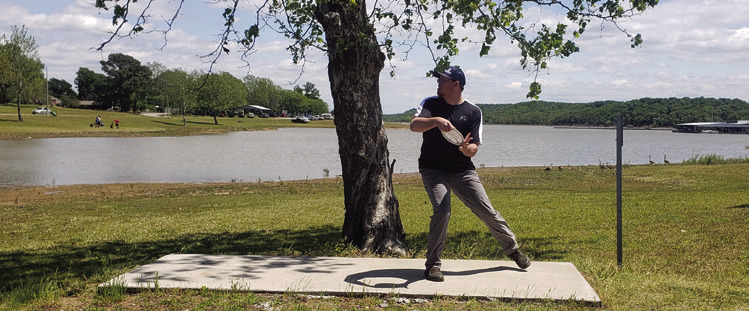 Disc Golf draws attention to our community
The 2023 BigFoot Tour Series: Spring Sling Powered by Discraft happened here in McIntosh County last Saturday. Seventy-five men, women and junior disc golfers came to challenge our Checotah Sports Complex and Wetlands Park courses.
The Eufaula course is still new to the community. There was once a 9-hole course which had to be removed to make room for the Wetlands Project. It was reopened in 2019 as a full 18-hole course.
The Checotah course has been in existence since 2013. Both courses offer a variety of challenges which entice disc golfers from around the country and are both of the caliber for hosting B-tier tournaments sanctioned by the Professional Disc Golf Association.
These courses were designed with the purpose of luring more visitors to our area and so far, that is exactly what has happened.
UDisc is a phone app that records players' rounds. As of April 16, 2023, 62 roundshavebeenplayedontheWetlands course for a total of 94 hours as recorded on this app alone. Some 326 rounds have been played on the Checotah course so far this year. That's 503 hours of Disc Golf exercise played by 51 players, 20 of whom are playing our course for the first time. Again, that is only the rounds recorded on the UDisc App and that number rose sharply last Saturday as 75 players played two rounds, one on each course.
Local residents are also experiencing disc golf for the first time and enjoying this fun, relaxing, health-beneficial, outdoor sport. If you would like to learn the sport, you can contact the Lake Eufaula Disc Golf Alliance on our Facebook page. Or stop by our Thursday evening leagues (Checotah in the Spring and Wetlands in the fall) and join us.
Special thanks to our hole Eufaula sponsors: Gentle Giant Home Solutions, Edward Jones, Escalated Greens, Bank of Eufaula, Eufaula Canadian Tribal Town, East Central Electric Co., Sisson Appraisal, Farmers State Bank, Basketcase, Eagle Hills Disc Golf, Randy Randleman, Eufaula Pharmacy, Hunn Funeral Home, Jason Burns, Keith Shaw, Jeremy Owen, Randall A. Mansfield, PLS, Hangin' 8 BBQ, and McQuay Construction.