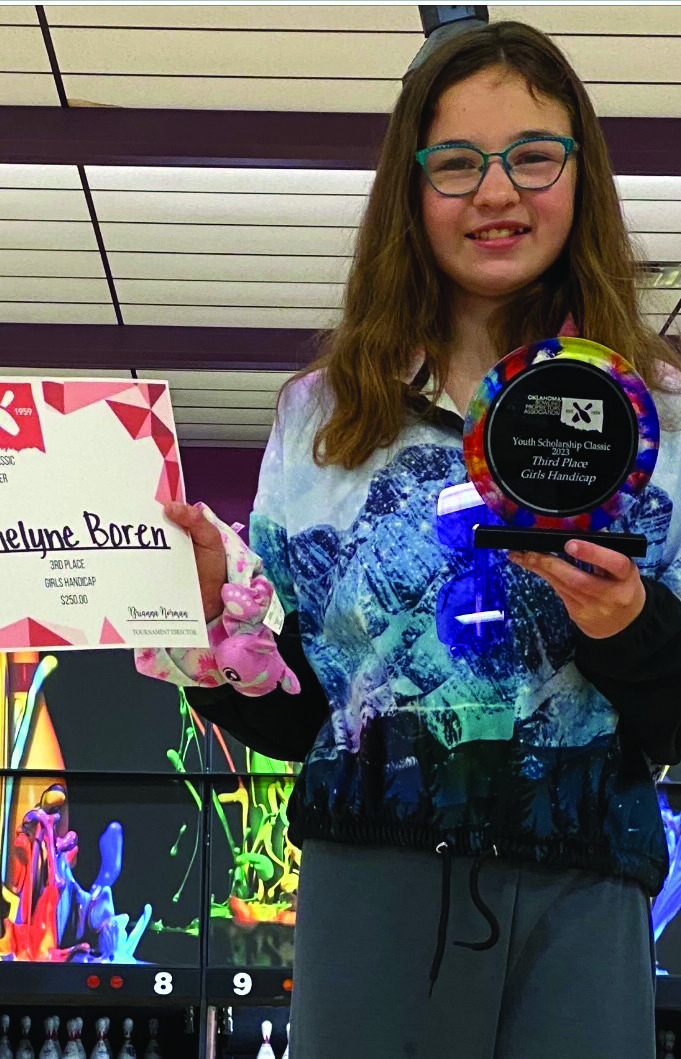 Fast Lanes is right up your alley
Hosting tournaments and specials
Fast Lanes Bowling Center recently hosted the Oklahoma Bowling Proprietors' Association Youth Scholarship Classic for 6th grade and below.
The tournament was open to all youth bowlers in the 6th grade and below, who are current participants in a USBC certified youth league at an OBPA member center. There were various divisions and handicaps with a USBC certified average of 21 games or more as of April 12, 2023 and scholarships were awarded at 1:6.
Thirteen youth bowlers from Fast Lanes competed in the tournament.
Top bowler of the girls' division was Alyssa Cheatwood from Sooner Bowler Center with a total of 722 but on her heels in third place was Emmelyne Boren from Fast Lanes with a total of 676.
The remaining Fast Lanes' girls came in at the following places with these total points: 5th- Olivia Herron with 657 pts. 6th – Hannah Duke with 648 pts. 16th – Katherine Pharoah with 619 pts.
17th – Kaylin Pitts with 617 pts. 18th – Kylie Miller with 601 pts. 20th – Ava Turney with 587 pts. 23rd – Isabella Pitts with 566 pts. The top bowler of the boys' division was DJ Scott from Thunderbird Lanes with 800 points, but right behind him in second place was Fast Lanes' Colin LaRue with 765 points. Then third place was sealed with Conner Turney from Fast Lanes with a total of 693.
The remaining Fast Lanes' boys came in at the following places with these total points: 5th – Jasper Pitts with 681pts. 7th – Hunter Barry with 666 pts. 14th – James Pharaoh with 596 pts.
Every bowler received a scholarship award.
Fast Lanes loves watching their youth leagues compete, but they also love to see any child enjoying a game of bowling with friends or family. That's why they participate in the Kids Bowl Free Program with more than 1,500 bowling centers around the globe. These participating centers provide two free games of bowling each day to kids during the spring and summer. This program is designed by bowling centers to give back to the community and provide a safe, secure, and fun way for kids to spend time during the summer with their friends and family.
Since starting the Kids Bowl Free Program in 2007, more than 35 million kids and families have participated!
To participate in the Kids Bowl Free Program parents can go to KidsBowl-Free.com and register.
Step 1: Find a participating bowling center in your community – i.e. Fast Lanes Step 2: Register Your Kids – Children whose age does not exceed a limit by a participating bowling center are eligible to register for two free games each day of the KBF program, all summer long, courtesy of the participating bowling centers along with the schools and organizations. Participating bowling centers set their age limits and times, so see the center's registration page for more details.
Step 3: Go bowling all spring and summer!
Each bowler must rent their shoes from Fast Lanes. A family of four can also get a $30 family package. So call Fast Lanes at 918-473-FAST (3278) and ask about more details. Bowling fun is right up your alley this summer.