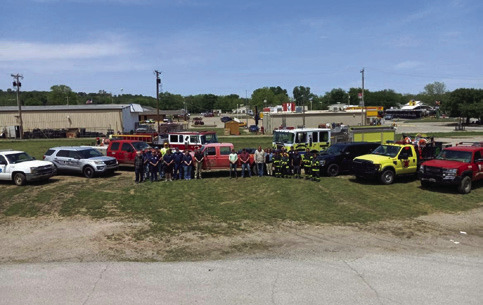 Last alarm for firefighter Ross Blackwell
FAIC volunteer _re_ghter Ross Elliot Blackwell lost his battle with cancer on May 3, 2023.
FAIC Fire-Rescue posted on social media a_er hearing of their comrade's death last Wednesday: "We are saddened to announce that Fire_ght- er Ross Blackwell answered his last alarm this morning (May 3). Ross had been diagnosed with multiple myeloma cancer in his bones and blood. Ross joined F.A.I.C. Fire Department in 2020. Towards the end of 2022, Ross started noticing a decline in his health and made the hard decision to step down as a firefighter. However, Ross continued to be a part of the department and helped the Chief out with paperwork and taking vehicles in for maintenance."
Ross served in the United States Marine Corps. Then he received his Bachelor's Degree in Nursing, which allowed him to pursue a fulfilling career in the medical field. His dedication to work and community was evident in his service, even as a volunteer fireman with the FAIC in the Checotah area, where he had lived for several years.
The FAIC is still hosting a benefit dinner on Saturday, May 13, from 4 p.m. to 6:30 p.m. to help offset funeral costs for the family.
"Please join us in praying for his family and brothers and sisters that he served alongside with," Chief Shaun Moore said. "We appreciate all of the support from our communities in McIntosh County and the family does as well."
Ross was only 57 at the time of his passing and will be deeply missed by all who had the privilege of knowing him. He especially loved his grandchildren and fishing, but his memory will live on in the hearts of his family, friends, and community.
Funeral arrangements are pending with Integrity Funeral Service, 410 E. Trudgeon, Henryetta, Oklahoma.