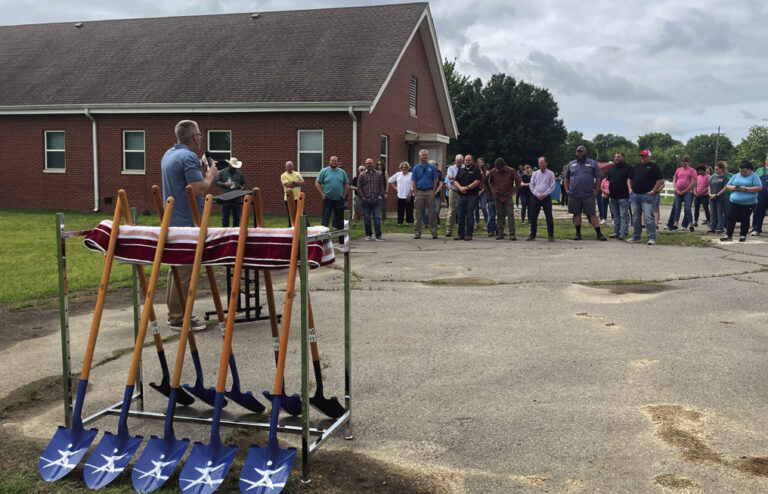 Freedom House breaks ground for new center
Last _ursday Freedom House Adult & Teen Challenge held a groundbreaking event for their Freedom Worship & Event Center that they will start doing the dirt work soon.
Master of Ceremony David White from Granite Station Cowboy Church welcomed the large crowd of friends and businesses there to witness the groundbreaking and show their support of the exciting new project that had only been a dream for over a year.
CEO of Oklahoma Adult and Teen Challenge Wayne Gray spoke to everyone about the vision of the project nally coming to fruition. He talked about all the hard work that the sta 2and ladies of Freedom House have gone through to see this building become a reality.
Freedom House Exec. Director Kathy Love shared with the crowd her dream about the facility and how that dream is now becoming a reality.
Gray and Love had rst unveiled the vision of an upcoming Freedom House Worship and Event Center in October 0f 2021 stating the new building would be approximately 4,700 square feet and will be used for times of worship, community events like graduation and for family fun days so the ladies can have recreational activities and games inside during inclement weather.
Pledges towards the building fund have slowly come in and at the recent Freedom House Spring Tea enough money was raised to complete the dirt work needed to start the project.
Love stated that Freedom House is a 501(c)(3) entity that is tax deductible and that she believes the rest of the money needed to finish the project will come in.
"I'm just trusting God because He has never failed me yet. It's 100 percent up to Him – the project and the timing. I'm here to just say 'Look what the Lord has done' and watch lives be transformed by the Holy Spirit."
Love also stated she was so happy that the community came out to catch the vision and to see how lives are really being changed right here in Checotah.
"Our program is designed to help break the cycles of past failures by learning how to turn to God and be honest with yourself and others," Love said. "By focusing on Godly coping skills and not just their own abilities, these ladies build true relational skills and work ethics that allows them to become who they were meant to be through Christ. These changes in direction set them on a journey towards true healing and happiness. We can't thank God enough for His unconditional love, undeserving grace and endless mercy He shows us all every day."
Shovel dignitaries who helped break the ground included: Wayne Gray, CEO of Oklahoma Adult and Teen Challenge Mark Vandiver, Board member of OK Adult and Teen Challenge Matthew Carroll, COO of OK Adult and Teen Challenge Kathy Love, Executive Director Freedom House ATC Julie Tittjung, Executive Administrator of Freedom House ATC Daniel Tarkington, Mayor of the City of Checotah Cynergy Representatives John Engelbrecht – Zane dirt work Pastor Josh McElyea and team Pastor Ken Harris- KCC Metal Other honorary dignitaries included: Kelly Bishop Construction Co. LLC Danny Taylor – masonry Checotah Chamber of Commerce Prince Heat and Air Russell Branon Plumbing Freedom House Advisory Board – Pastor Mark Shores, Pastor Josh McElyea, Pastor David Bright, Pastor Mark McCullough and Pastor Bud Shackelford After the ground breaking ceremony light refreshments were served and tours were given of the facility.