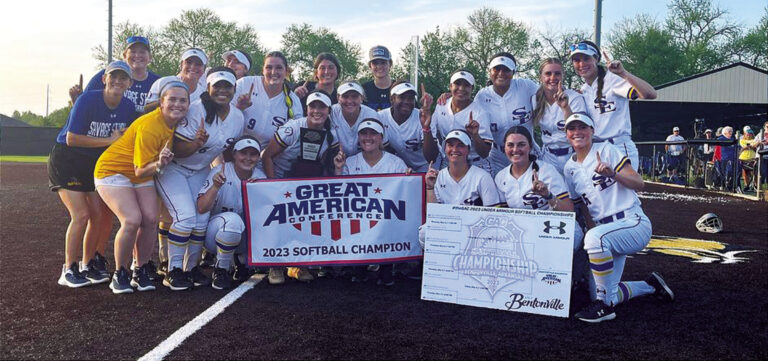 Southeastern softball wins 2023 GAC Championship
BENTONVILLE, Ark. – Cheyenne Mahy tossed a complete game and Marilyn Alvarado homered to guide Southeastern to a Great American Conference Tournament Championship with a 3-2 win over Southern Arkansas on Saturday evening in Bentonville, Ark.
The win gives Southeastern its third GAC Championship in softball, after winning the regular season and tournament titles in 2013, a regular season championship in 2014, and today's tournament title.
Reese Taylor took home the tournament's Most Valuable Player honor, while Alvarado, Bailey Beard, Mahy, and Kady Fryrear joined her on the All-Tournament team.
The win also secures an automatic bid into the NCAA Central Region tournament which will announce its bracket on Monday morning at 9 a.m. on NCAA.com.
Southeastern improves to 33-25 overall on the season and the Storm avenge its only series loss, picking up a win over SAU in the title game just a week after dropping all three games in the season-ending series.
Mahy tossed the complete game and struck out three while allowing two runs on eight hits to pick up her seventh win of the season.
Alvarado homered in the game and finished with a pair of hits, while Fryrear also chipped in two hits.
Mahy added a hit, while Iliana Olivares, Kamryn Rackley, and Beard each had a hit.
Alvarado, Fryrear, and Beard each drove in a run.
SE took the first lead of the day with Alvarado connecting on a first inning solo homer for the 1-0 lead.
Fryrear pushed the lead to 2-0 in the top of the third on an RBI single to plate Alvarado.
The Muleriders would knot the game in the fourth on a to-run homer to right field, tying the game at 2-2.
SE would have the last word in the top of the sixth though as Beard doubled home Olivares to give Southeastern a 3-2 lead which would hold up as the final score.