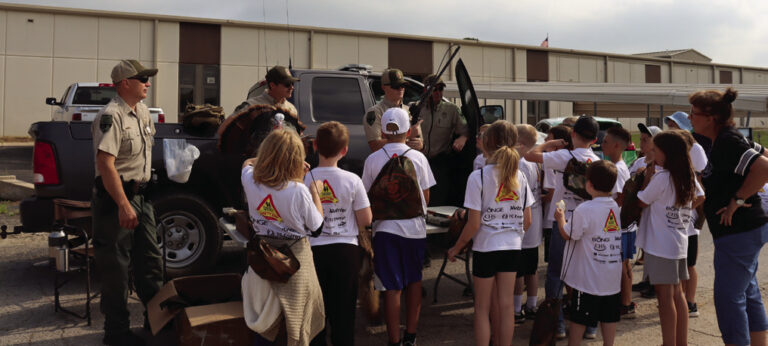 Students learn during Progressive Ag Safety Day
Approximately 375 students, sta 2and presenters attended the Progressive Ag Safety Day at Checotah Elementary School on May 9. All the students received t-shirts that said "Safety is my Superpower." _e program was hosted by the McIntosh County OSU Extension under the coordination of OSU Extension Ag Educator Pamela Ward and was sponsored by Armstrong Bank and First Family Credit Union.
Local agencies set up safety stations for students to learn the importance of safety and participate in hands-on training on what to do in case of an emergency, like how to throw a life preserver to someone drowning and when to call 911 for help. Examples of the safety presentations included: Electrical Safety, Railroad Safety, Fire Safety (smokehouse), Farm Equipment Safety, ATV Safety, Boat and Water Safety, Gaming Safety, Lawn Mower Equipment Safety, Bike Safety and more.
"I'm so grateful to everyone who came out to help demonstrate the importance of safety in so many areas of our daily lives," Ward said. "I feel that it is very important to provide programs for our youth that will instill valuable life lessons in them. Through the Progressive Ag Safety Day we are able to provide information that could potentially save their life or the life of someone they know and love."
Presenters of the Progressive Ag Safety Day at Checotah Intermediate School included: McIntosh County Emergency Management Services Checotah Police Department McIntosh County Health Department East Central Electric McIntosh County Game Wardens Checotah Fire Department Oklahoma Farm Bureau Hosstyle Motors P&K Equipment John Deere of Muskogee OSU Extension ATV Safety Coordinator Oklahoma Highway Patrol/Marine Corps McIntosh County Sheriff 's Dept. Checotah HS Ag Teacher, Matt Fowler, and Ag Student helpers