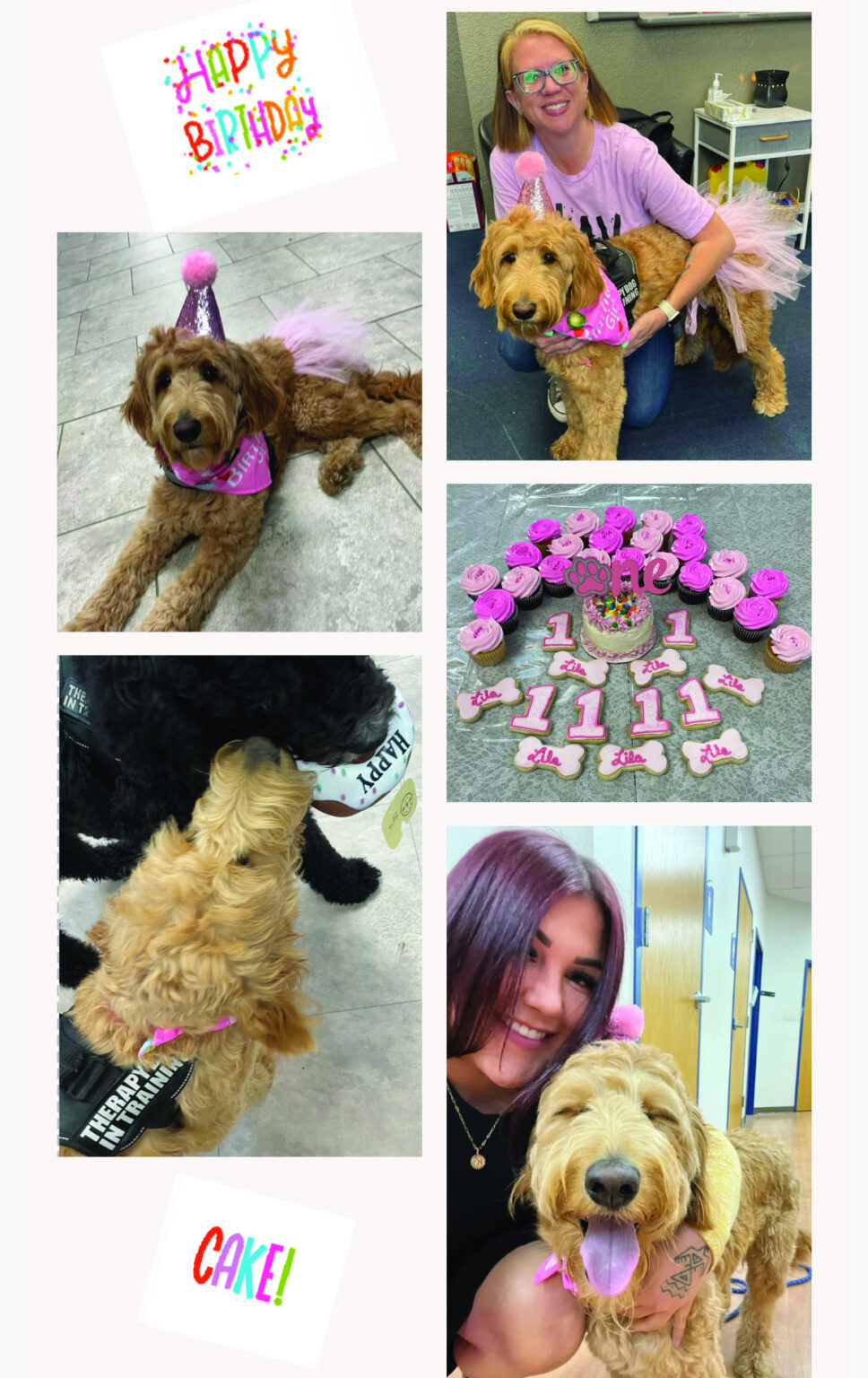 Therapy pup Lila turns one
Checotah therapy pup Lila celebrated her rst birthday last week and had a tail-waggin' time with her handler, AWARE counselor Kendall Jones.
It's hard to believe this one-year-old Goldendoodle started her "therapy pup in training" at Checotah Public Schools when she was only 10-weeks-old.
Following the pandemic it became evident that students needed additional support and that schools needed to think outside the box to deliver ways to support their students. More colleges were using therapy dogs, especially during testing time and freshman orientation, to bring a calming effect on everyone and add value to the entire school experience.
"I wanted our students to have those same experiences," Jones said. "And after seeing how well Morris students were responding to their therapy dog program, we wanted to implement it into our school system and I am so glad we did. Now we see the bond between our students and our therapy pups, Lila and Tucker, and it's such a needed support system."
Recently when Henryetta Schools suffered a horrific loss of five students who were murdered, the real benefit of the therapy program was seen by all.
Marshall Elementary counselor Katelyn Walker was part of the team of Checotah counselors who went to Henryetta schools to help students cope with the tragedy. She summed up the benefit of having such a great pet therapy program for Checotah and even the surrounding areas when needed.
"It was a humbling experience to be a part of," Walker said. "Upon entering the school there was definitely a sense of sadness, but as soon as the students saw the dogs, the atmosphere changed. They lit up. Our group had two dogs and Morris had their two dogs that all came to help students cope with the loss of classmates and friends. You could look down the hallway of the middle school and see students sitting around the animals, petting them with smiles on their faces. The school counselor said she wished we could see the real difference the dogs made. With tears in her eyes, she said the entire atmosphere changed for the better when the dogs showed up! We were so grateful to be a part of the healing process for this community."