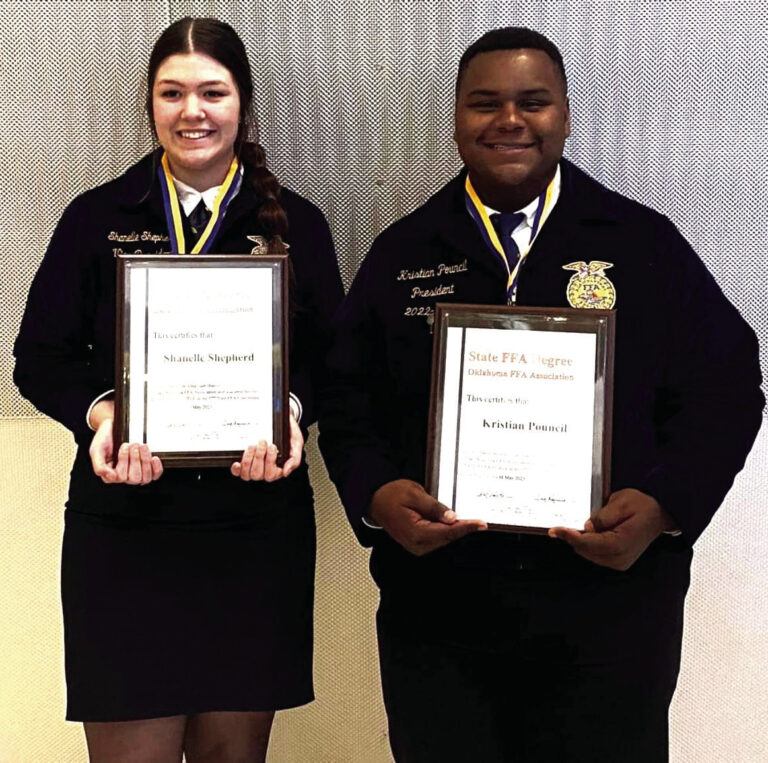 Two seniors receive State FFA degrees
On May 3, Checotah FFA President Kristian Pouncil and Checotah FFA Vice- President Shanelle Sheppard received their State FFA degrees at the BOK Center in Tulsa.
Both FFA o_cers have been outstanding not only in their eld but also in the community, helping throughout their high school years in many areas to educate others.
Kristian Pouncil has accomplished many goals while at Checotah. _ey include: Education
12th grade FFA President 11th grade FFA Secretary
10th grade FFA Sentinel
10th grade Spanish Club Vice President
9th grade Spanish Club Reporter
9th grade class FFA representative
2022/23 Student Council Executive Vice President Class President 9th, 10th and 11th grade year Student Council Member 9th-12th grades Achievements
2019-2020 8th grade Chapter Discovery Star Recipient 2019-2020 Discovery Degree
2020-2021 Truth and Peace Leader 2021-2022 Truth and Peace Leader 2021 Top 15 Meat Evaluations at State 2022-2023 Truth and Peace Leader 2022 Top 15 Meat Evaluations at State 2023 Checotah Local Livestock Show Senior Champion Showman 2023 McIntosh County Livestock Show Senior Champion Showman 2023 State FFA Degree Volunteer Experience:
Operation Christmas Child Canned Food Drive Student Council Blood Drive Put out city flags for holidays City Trash Pickup Inform younger students about Ag in the classroom projects Set up and help run Marshall Petting Zoo Assist with Children's Church every Sunday After School Program Mentor Interests/Activities:
Member of the Checotah Show Team Checotah First Freewill Baptist Youth Checotah FFA Meat Evaluation Team Checotah FFA Cattle Grading Team "After high school graduation I will be attending Oklahoma State University's Ferguson College of Agriculture and Majoring in Ag Education," Pouncil said. Then after college I plan to become an Agriculture Education teacher in either Oklahoma or Texas. The reason I want to pursue this is because my Ag-Ed and FFA experience has made me the person I am today. Without this wonderful program I would not know the people I know today and I wouldn't have the leadership skills that I have learned. I also want to have the opportunity to give back to the program that helped shape me and teach kids about the wonderful things that I have experienced. I also want to help kids step outside of the box and try new things in the world that will help them in the real world."
Kristian is son of Courtney and Kevin Pouncil. Shanelle Shepherd has also accomplished a lot during her time at Checotah which includes: Academic Accomplishments
Valedictorian at CHS 4.0 student National Honor Society (Grade 11,12) Top 10% (Grades 9,10,11,12) Advanced English enrollment (Grades 9,10,11) Clubs, Organizations & Campus Leadership State FFA degree Chapter FFA secretary (Grade 10) Chapter FFA Vice President (Grade 11 and 12) Spirit Club (Grades 9,10,11,12) Prom Committee Organizer (Grade 11) Gifted & Talented (Grades 9,10,11,12) Yearbook graphic organizer (Grades 10,11) Community & Volunteer Service
Shop with a Cop Dinner (Grades 9,10,11) Fall Festival (Grades 9,10,11,12) Pumpkin painting (Grade 10) Football Concession work (Grades 9,10,11) WIN Bistro Concession (Grade 11) Marshall Elementary walkathon (Grade 12) Marshall elementary fire safety training (Grade 12) Community tree planting (Grades 11,12) Annual City Chamber Banquet hosting (Grades 9,10,11,12) Extra-Curricular Activities Checotah High Point Individual- Cattle Grading (Grades 9,10,11,12) Checotah High Point Individual- Meat Evaluation( Grades 10,11) Checotah High Point Individual- Livestock Judging (Grades 9,10) Checotah OCC Team (Grade 9) Teens for Christ Member (Grades 9,10,11) Shepherd stated, "I plan to attend OSU IT Okmulgee in the fall to obtain my RN license so I can practice as a labor and delivery nurse somewhere in Oklahoma.
Shepherd is the daughter of Amanda Eastteam.