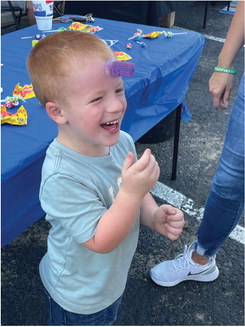 Successful March for Mental Health
e very _rst "March for Mental Health and Self-Care Carnival" was a huge success thanks to so many who walked for awareness to include the Checotah High School Band and Color Guard, along with those who set up self-care booths on May 17.
Checotah Project AWARE Community Manager Shawnna Wilhite and Interconnected Systems Framework Specialist Tyler Warrior were very pleased with the awareness event and stated mental health is just as important as physical health, especially when it comes to self-care.
"Everyone is always pushing therapy or counseling, but sometimes a little self-care is truly what we need," Warrior said. "I created this event for the community, especially our youth, to realize that they have more power than they would like to give themselves credit for.
"Self-care means taking the time to take care of you because this helps you live longer and better. Self-care can also help you manage stress and anxiety, lower your risk of illness, increase your energy and even boost your self-esteem.
"Each business and organization at the event spoke about how their _eld of work can be a form of self-
SEE MARCH FOR MENTAL HEALTH, PAGE A2 care. From regular checkups to physical fitness to taking a coffee break for yourself to seeking counseling when you need it, there are several ways to take care of yourself. Of course, mental health professionals can provide services for those who need a little more care than what self-care can provide them. They can also help teach coping skills in crisis situations. As advocates we have to bring awareness of the need for self-care and mental healthcare in our community.
"We were very happy with the turnout and appreciate everyone coming out. Huge thank you to all of these wonderful businesses, organizations who made the March for Mental Health a HUGE success."
Those who participated included: Aspire Health Primary & Urgent Care Green Country Behavioral Health Services McIntosh County Coalition (Neighbors Building Neighborhoods) Checotah Sunrise Yoga The Taco Bandit The Perkery Checotah Perk Checotah Fit Club (24 Hour Gym) Checotah High School Art Club Ashley Love Checotah Middle & High School Band and Color Guard City of Checotah Mayor Tarkington Checotah Police Department McIntosh County Sheriff 's Dept. McIntosh County Democrat The Boat Doctor also donated the Bounce House for the kids to have some extra outside fun.