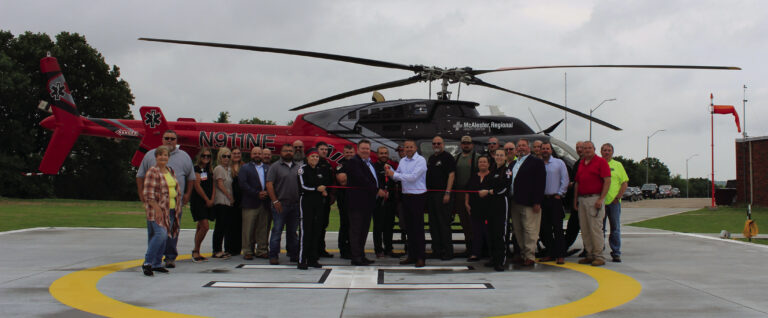 MedTrans Air Ambulance Service enhances healthcare accessibility in Eufaula
Community leaders, McAlester Regional representatives and MedTrans staff gathered at the landing pad at the site of the old Epic Hospital in Eufaula to cut the ribbon for the new MedTrans Air Ambulance service.
MedTrans, a leading provider of air medical transportation, has partnered with the McAlester Regional Health Center (MRHC) to bring high-quality air ambulance services to the community of Eufaula. This collaboration marks a significant milestone in the ongoing commitment to provide accessible healthcare resources to the region.
In the spirit of their shared goal to improve healthcare services in Eufaula, MedTrans has proudly branded their helicopter with the McAlester Regional Health Center logo. This visual representation serves as a reminder of the strong partnership between the two organizations and their unwavering dedication to the community's well-being.
The executive director of Marketing and Foundation for MRHC, Chris Plunkett, expressed his enthusiasm regarding the collaboration, stating, "MRHC has always been committed to providing healthcare resources to Eufaula and the lake region. When the Eufaula hospital closed a few years ago, our team came together quickly to provide healthcare services for the region. In a matter of a few short months, we opened up an urgent care clinic and have since expanded to offer primary care as well."
The introduction of MedTrans Air Ambulance service in Eufaula fills a crucial gap in emergency medical transportation, ensuring swift and efficient transfer of patients to advanced healthcare facilities. In cases of severe trauma, critical illness, or medical emergencies, the ability to rapidly transport patients via air significantly increases their chances of receiving timely and life-saving interventions.
The advanced capabilities of MedTrans helicopters, combined with the expertise of highly trained medical professionals on board, enable rapid response times and provide a critical bridge between the community and specialized medical facilities. MedTrans is equipped with state-ofthe- art medical equipment, allowing for the effective management of patients during transportation, regardless of their condition or medical needs.
Furthermore, the MedTrans and MRHC partnership ensures that patients in Eufaula receive seamless continuity of care. The air ambulance service acts as an extension of the comprehensive healthcare services offered by MRHC, facilitating the transfer of patients to the appropriate medical facilities for specialized treatments, surgeries, and interventions.
MedTrans Air Ambulance Service in Eufaula is a testament to the organizations' joint commitment to the community's well-being. The partnership between MedTrans and MRHC signifies a significant step forward in enhancing the overall healthcare landscape in Eufaula and the surrounding regions, providing residents with increased access to critical medical resources.
MedTrans is a leading air medical transportation company dedicated to providing swift, safe, and reliable patient transfers. With a fleet of stateof- the-art helicopters and a team of highly trained medical professionals, MedTrans is committed to delivering exceptional care during critical moments.
McAlester Regional Health Center is a comprehensive healthcare system dedicated to serving the residents of Southeastern Oklahoma. With a focus on quality, compassionate care, MRHC offers a wide range of services, including urgent care, primary care, specialty clinics, and advanced medical treatments. For more information, visit www.mrhcok.com.