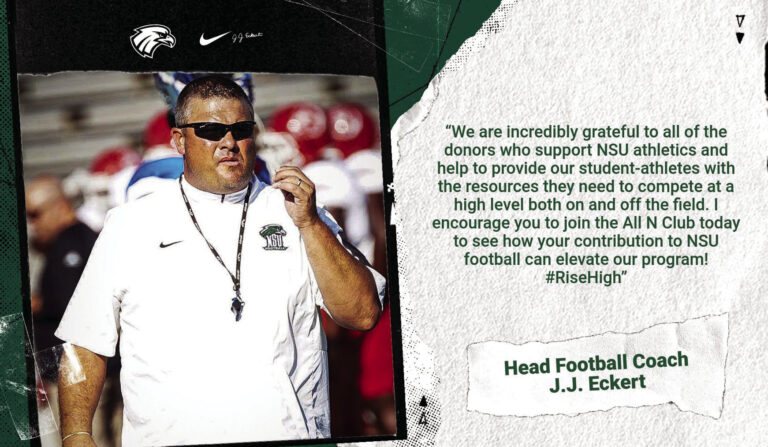 Northeastern State University Football launches All N Club Campaign
Tahlequah – The NSU Football program is excited to launch the inaugural ALL N CLUB Membership Campaign.
The ALL N CLUB unifies fundraising, alumni engagement and revenue-generating activities of Northeastern State University Athletics to maximize resources and ensure a first-class experience for our student-athletes. In addition, the ALL N CLUB seeks to connect alumni, family, and community members with opportunities to engage with and invest in the efforts of the athletics department and its student-athletes. This is an exclusive group of dedicated supporters who go above and beyond to help elevate the football program to new heights. With your membership, you'll have access to exclusive events and opportunities to connect with the coaches and players, as well as show your support in a big way.
By going ALL N, you're not only supporting the team financially, but you're also becoming an integral part of the Northeastern State University Football family. Your support will help provide the team with the resources they need to succeed on the field, and off the field, you'll be part of a community of like-minded fans who share your passion for the game.
Our goal is to is exceed 100 VIP members by June 30th so we can take our program to the next level. Supporter levels are based on annual giving and can be broken up into scheduled monthly payments: Champion: $1,000+ annually ($83.83/ month) AD's Circle: $750+ annually ($62.50/ month) VIP: $500+ annually ($41.67/month) Coach's Circle: $250+ annually ($20.84/ month) Varsity: $100+ annually ($8.34/month)