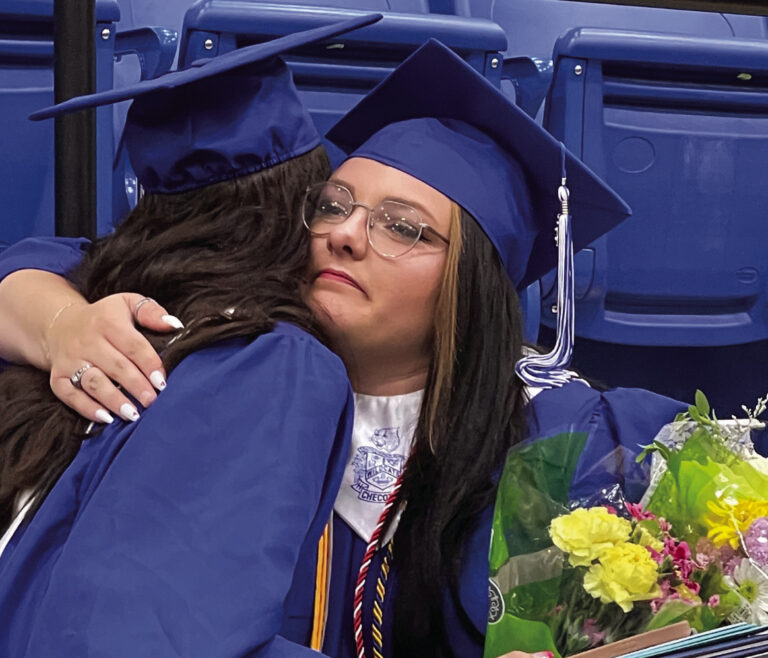 Another successful Wildcat graduation
Graduation week was a wild windstorm as Checotah seniors and school sta_ tried to t everything into their last week of school before graduating on Memorial weekend.
On Monday, May 22, seniors did one nal walk through all the halls of their schools, from Marshall Elementary to Checotah Intermediate to Checotah Middle School then Checotah High School. re were high ves to the younger students and hugs to teachers who had helped them through their years of education.
t evening seniors came back together for their Senior Scholarship Assembly where several received scholarships for college and trade schools. A total of $3.7 million was handed out that evening in scholarships.
Tuesday night was the Athletic Awards Assembly with Carter Stewart and JaiCee Lester winning the McIntosh County Democrat's Sportsman and Sportswoman of the Year along with Coach Brett Oleson being named MCD Coach of the Year.
rsday on that long and busy week, seniors came together with the community to Slide Into Summer and have some fun playing kickball and other activities until they had their last Senior Sunset together.
Finally, graduation night arrived on Friday, May 26 and 78 seniors out of 83 walked the stage to receive their high school diploma.
Seven seniors led their Class of 2023. Five were honored with being Valedictorians: Rylee Sisson, JaiCee Lester, Shanelle Shepherd, Roshni Patel and Jessie Roachell. Jasmine McCutchen was Salutatorian and Natalie Knight was the Graduate of Distinction. Each of them took the stage Friday night to give one last speech before their classmates and wish them much success in their future years.
District Teacher of the Year, Jordan Lovett, was also honored that evening.
evening ended with cheers and tears as confetti bombs went o_ and graduation hats were tossed into the air ending another successful Wildcat year.