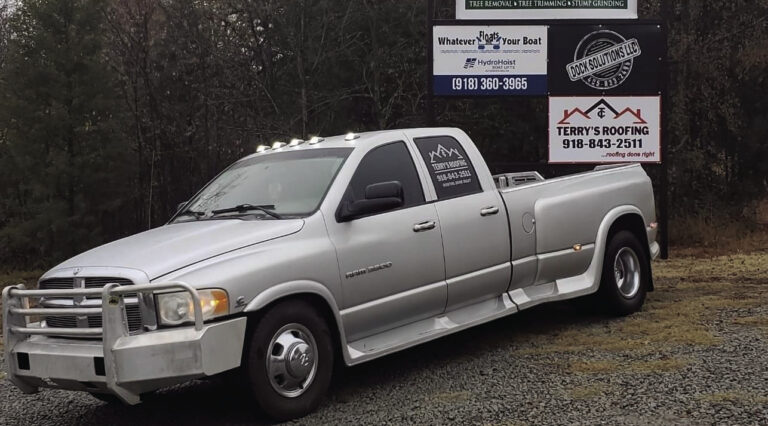 A spree of truck thefts in Checotah
Recently sprees of the_s have been happening in Checotah, usually on the weekends and early in the morning around 1:30 a.m.
First it was the Checotah Band's trailer stolen o_ school property. It was nally recovered but with all of the band's equipment and uniforms destroyed.
Now thieves have hit Terry's Roofing and Hosstyle Motorsports on the same night, taking two Dodge trucks and a trailer.
Terry's Roofing had their silver 2004 Dodge Ram 3500 pickup taken along with a trailer full of shingles.
"Our neighbors heard the truck start just before 1:30 a.m. Sunday morning," Deborah Hughes said. "It ran a few minutes then it backed out and went north on 2nd St. It was caught on camera going west on 266 out of town at 1:32 a.m."
As soon as Terry Castleberry and Hughes found out about the theft, they posted it on social media and got several calls about the trailer. The trailer was later found a few miles west of town. The thieves had dumped the shingles in the ditch and then abandoned the trailer.
"The truck is unmistakable with an aluminum guard on the front and a gate on the tailgate and the fender flares. It's truly upsetting when you work hard for everything that you have and someone comes along and just takes it," Hughes said. "Terry is offering a $1,000 cash reward for the person who puts him in front of the truck and the thieves that stole it."
The second truck stolen that evening was from Hosstyle Motorsports. It was a black 1998 Dodge 3500 4×4.
Hoss Durrett stated that this is the third time his business has been targeted. Officers found the second thief but not the first one in the other two thefts. Durrett is also offering a reward.
If anyone knows any information about these thefts please contact the Checotah PD at 918-4734555.
These cases are still under investigation.