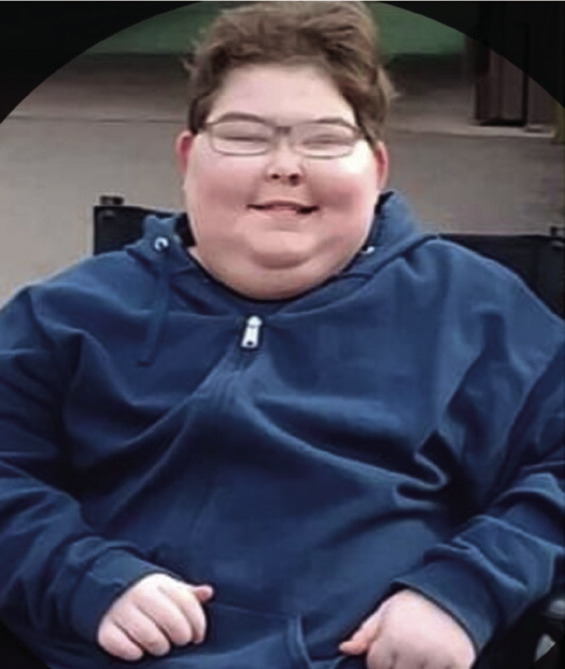 When a super hero dies
Saying goodbye to Michael Hamilton
Michael Hamilton was an outgoing ve-year-old when he was diagnosed with a rare form of brain cancer – a grade one pilocytic astrocytoma. s rare form of cancer proved to be one of a kind and the tumor acted like "kryptonite" to the little boy who was more like "Superman" as he faced chemotherapy and radiation treatments. Locals Ashley Stewart and Janie Underhill with Pistols and Pearls had worked hard with a t-shirt program that sported Michael's logo as a super hero letter "M" and all proceeds from the community and school had went directly to the family during this di_cult journey. Michael was truly a super hero in everyone's eyes and though Michael spent the next five years battling courageously, on June 2, 2023, he folded up his super hero cape and went to be with his Lord and Savior.
Anyone who had the privilege of knowing Michael fell in love with this outgoing little boy who loved showing lambs at the local FFA shows with his older sister, Hayli Hamilton. The excitement and enthusiasm was real when Michael watched for the judge's approval and worked his magic in the show ring. Being in the ring and showing those animals was what he lived for and winning was just the icing on the cake.
Michael had been in Checotah but then had moved and was attending Avant School when the family got the news that the cancer wasn't in remission any longer. So they journeyed back to St. Jude's in Memphis to try and slow down the cancer. Unfortunately nothing worked.
However, before Michael had to say goodbye he got a Make-a-Wish Minecraft game party with his whole school and he even got a green golf cart which he drove during his little hometown parade.
It seems fitting that one of Michael's favorite songs was Carrie Underwood's song, "The Champion." Every time he left for Memphis Michael would sing "I am invincible, unbreakable, unstoppable, unshakeable. They knock me down, I get up again. I am the champion. You're gonna know my name. You can't hurt me now, I can't feel the pain. I was made for this. Yeah, I was born to win. I am the champion."
Truly when a super hero dies, he flies to another place just beyond the earth's view.
The staff of the McIntosh County Democrat sends their deepest condolences to the family and thanks them for letting us share Michael's story. Fly High Michael!
Michael Dewayne Hamilton April 25, 2013 – June 2, 2023
Michael Dewayne Hamilton, age 10, of Skiatook, went to be with his Lord and Savior, Friday, June 2, 2023 in Barnsdall.
Michael was born April 25, 2013 in Bartlesville, Oklahoma to Jennifer White and Jayson Orville Hamilton Sr. Michael was currently in the 4th grade at Avant Public Schools. Michael loved playing Minecraft, riding the golf cart, watching his twin brother, James, play basketball, where Michael was the team manager, showing lambs and he loved his school at Avant.
Michael was welcomed into heaven by his brother; Hunter Hamilton, Granny and Papa, Grandma, Mawmaw and his Aunt Natalie.
Michael is survived by his parents; Jennifer and Jayson Hamilton, brothers; Jayson Hamilton II, and his twin brother; James Hamilton, sister and brother- in-law; Hayli Hamilton and Galan Ballard, niece; Allison Ballard and grandfather; David White.
Michael is also survived by all his teachers and friends at Avant Public Schools. Michael is also survived by his Aunt Lydia White, Uncles; Bob Hamilton Sr., Creighton White, Robert White, Tim Cook, and Nicholas Cook and by several cousins.
Michael's Celebration of Life was held Wednesday, June 7 at Avant Public School. A private interment was held afterwards.
Pallbearers were Jayson Hamilton II, Galan Ballard, Coach Holcomb, JR Monk, Ian Davis and Anthony Hudson. Honorary Pallbearers were James Hamilton and James Monk.
Music for the service was "Welcome To My House" and "Soul Song" that Michael sang. Video music will be "Sea Shanty" and "Be With You."