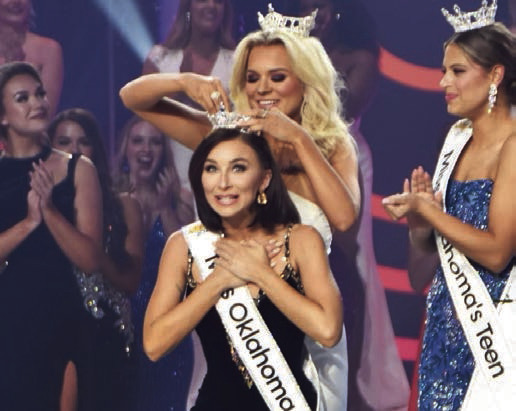 Miss Oklahoma 2023 crowned
Locals also shine
Miss Norman, Sunny Day, was crowned Miss Oklahoma 2023 on Saturday night at the River Spirit Casino in Tulsa. Day, a teacher at Western Heights Public Schools, was one of forty candidates who competed in talent, health and _tness, and in evening gown attire, demonstrating to the judges they had what it takes to win. She also made history on the Miss Oklahoma stage by being the oldest contestant to compete at 27-years-old.
Day as Miss Oklahoma not only will represent the state in the Miss America competition later this year, but also will receive a $30,000 scholarship to further her education.
Runner ups in the Miss Oklahoma competition included: 1st Runner Up – Miss Oil Capital, Mia-Lynne Smith 2nd Runner Up – Miss OSU, Tatum Shelton 3rd Runner Up – Miss Queen of the West, Mackenzie McIntyre 4th Runner Up – Miss Oklahoma State Fair, Emily Faith These young candidates, along with the Miss Oklahoma Leadership Team, work countless hours preparing for the competition, working out schedules and planning meals for the event.
Local Stephanie Stidham of Checotah has been part of the Leadership Team for 10 years and serves as the Meals Chairman for the Miss Oklahoma pageant. She is an educator at Checotah Public Schools and also helps locally with the Miss McIntosh County pageant fundraiser.
"I love watching these talented and educated women compete and work in their communities," Stidham said. "Miss Muskogee Arriah Herrin, who made it to the top ten in the Miss Oklahoma pageant, recently helped judge our Miss McIntosh County pageant."
"The benefits of competing are life-changing for these contestants. The four points of the Miss Oklahoma crown stand for Style, Service, Scholarship, and Success. It is so rewarding to watch these ladies grow in all four areas; all while earning scholarships to continue their education."
"Twenty years ago, I made 'improving literacy' my community service initiative and from the school assemblies I lead, I discovered I wanted to be a reading teacher. I credit the Miss Oklahoma organization with improving my interview and communication skills, fostering a love of serving others and even defining my career. Each year I give back, I see the same thing happen for 40 more women. What a privilege and accomplishment for them all!"