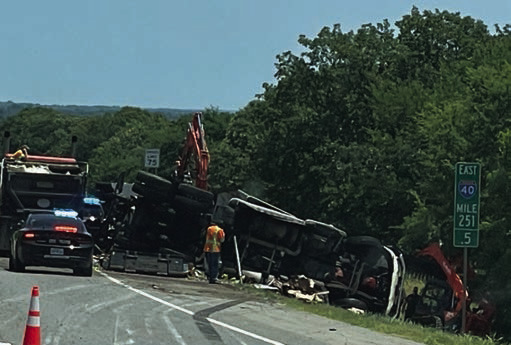 A: Main, News
June 15, 2023
Traffic stalled for five hours on I-40
McIntosh County Emergency Management posted on Facebook information about an accident on I-40 in McIntosh County that closed the eastbound tra_c lanes for _ve hours and backed tra_c up about eight miles.
According to the information, the accident involved two eastbound semi-trucks that collided at mile marker 251 west of Checotah Sunday evening.
At least three people were injured, one critically. Identities were not reported.
"_oughts and prayers go out to those aected by the accident; hope for swi_ recovery for the one critically injured and best wishes to two with minor injuries," the message said.
Emergency Management noted that there was a major response to the accident by a host of st responders.
Gratitude was extended to the following: – F.A.I.C. Fire Department – Tiger Mountain Fire Department – Paradise Point Fire Department – McIntosh County Sheri 's o_cers – OHP – Oklahoma Department of Transportation – Checotah EMS – Paord EMS – First Flight – McIntosh County 911 "Special thanks to D's Emergency Services for a swi_ and e_cient response, especially in handling the diesel fuel spill that occurred."
"Once again, we extend our sincerest gratitude to all the st responders, agencies and organizations involved. Your sel_ess dedication and service to our community are truly appreciated. Together we are stronger!"