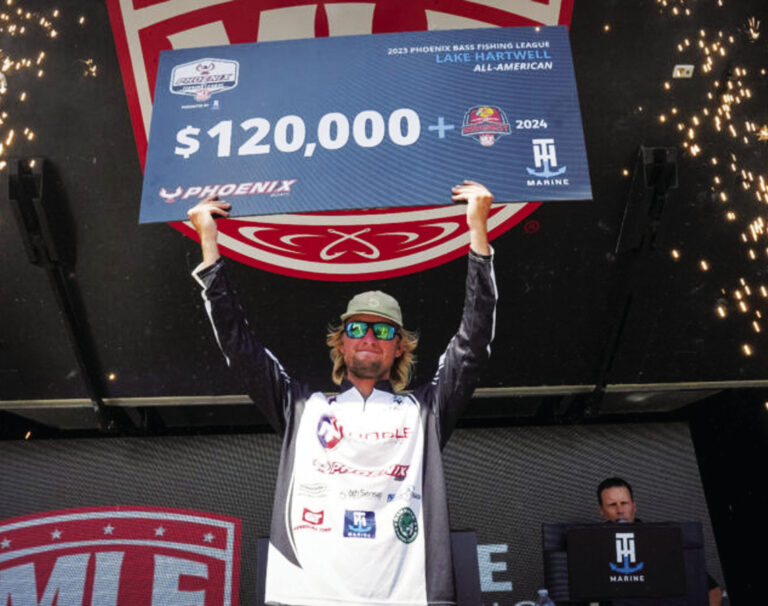 News, Sports
June 15, 2023
Wagner closes strong to win the 40th All-American on Hartwell
All week long, the Bulldog Division boaters made their presence felt on South Carolina's Lake Hartwell during the 40th edition of the Phoenix Bass Fishing League Presented by T-H Marine All-American. One of them was the leader each day of the event and the one standing on top at the end was Marietta, Georgia's Emil Wagner, with a total of 55 pounds, 11 ounces.
Wagner had a slim 12-ounce lead over Matthew O'Connell coming into the day and added 17-7 on the final day to win $122,300 to go with a berth in both the 2023 Toyota Series Championship and REDCREST 2024.
Since the location was announced for this week's event, Wagner was laser-focused on it and put in the work to get the job done. That included many hours behind the wheel while looking at his electronics.
"I've been waiting for this event ever since they announced it was going to be on Hartwell last fall," he said. "I've fished six Toyota Series tournaments, and I don't know how many BFLs and local events since then, but this one has been on my mind the entire time. I put in a lot of hard work, graphing from daylight to dark and looking around before it went off limits. To have it all pay off is unreal."
Wagner's pre-practice work was spent graphing much of the lower lake and he used that knowledge this week.
"I graphed all of the banks and left nothing behind in my search," he said. "A lot of my better fish this week didn't come from brush piles, which I think most guys were targeting. Instead, the fish seemed to be on the drops. The places where the water was 6 to 10 feet deep and dropped to around 20 feet, they were sitting right on the drop. I don't know if it was a late herring spawn or what it was, but the fish just wanted to be there."
He focused on the area from Green Pond Landing to the dam and everywhere in between, hitting a rotation of many different spots.
"I graphed that entire section and had all of the high percentage stuff marked," he said. "It seemed like the bigger largemouth I caught were more between Andersonville Island and Green Pond and the spots were closer to the dam."
To catch his fish, a trio of baits helped him and all contributed about equally. He fished a Zoom Super Fluke, a 6th Sense Catwalk topwater in royal chrome, and a custom-painted Sebile Magic Swimmer.
"I got way less bites on the Swimmer, but they were all good ones," he said. "I fished the Fluke on a 4/O Gamakatsu worm hook and put a nail weight in it today. It was so tough and they didn't want to come up for anything, but the weight allowed me to twitch it about a foot or two below the surface so they could see it better."
He was thrilled to win this event with friends and family here to support him and also because of who was chasing him down.
"Matt (O'Connell) and Buddy (Benson), they're incredible fishermen, both of them," he said. "We're always duking it out back home on Lanier. Congrats to them for having great weeks; they made it especially difficult for me to win this."
With the win, Wagner takes home a big check and a berth into REDCREST 2024 on Lay Lake in Alabama.
"The money is awesome, more money than I've ever had, but I'm more excited about REDCREST," he said. "The chance to fish against those guys is unreal. I've only been to Lay Lake once for a college event when I was at Ole Miss and we sucked, so I will have to start looking around there."