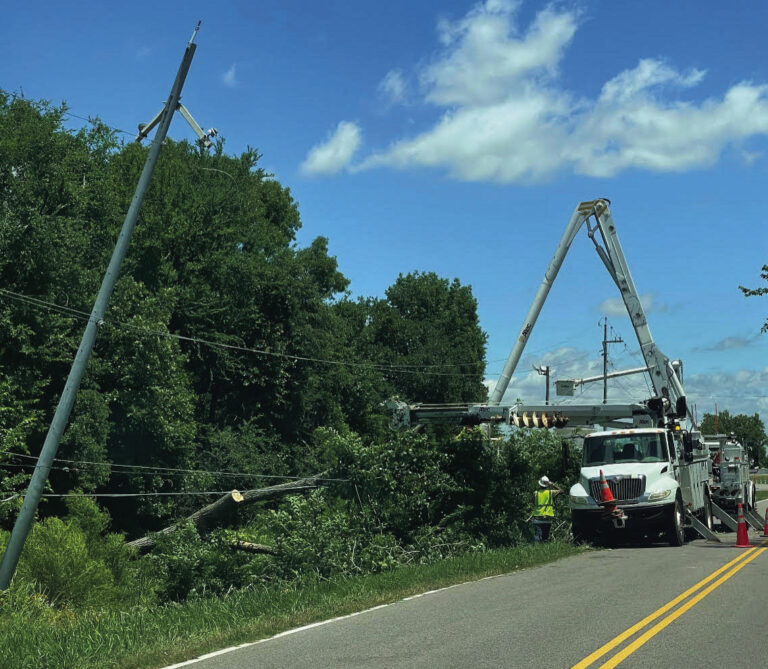 A: Main, News
June 22, 2023
High winds cause havoc in the county
Hurricane force winds tore through the county Saturday night and Sunday morning, ripping apart trees; knocking down power poles; upending signs and causing widespread damage.
sound of the night's powerful winds, said to be as high as 90 miles per hour in this area, gave way Sunday morning to the pervasive sound of chain saws as property owners attacked the downed trees and branches that littered the ground.
usands of customers were le in the dark for as long as 24 hours as OG&E and Eastern Oklahoma Electric Co-Operative frantical- ly worked to restore power as their resources were stretched to the limit.
It was a Father's Day weekend to be remembered. Many people were still without power on Monday, though crews from the power companies had been out since Saturday and Sunday.
Most power had been restored by Monday a_ernoon.
Damage and power outages weren't limited to McIntosh County.
e storm system reportedly produced winds of up to 100 miles per hour in and around Tulsa. PSO said some 166,000 customers in the Tulsa area were without power at one point.
One person was killed in the Creek County town of Oilton, 40 miles west of Tulsa. According to Creek County Emergency Management the victim was asleep in his bed when a tree fell on his home and killed him.
ousands of customers throughout Green Country were le_ without power.
Checotah Mayor Daniel Tarkington stated that as of midnight Sunday night residents south of town were getting power restored. However, there were others in the southwestern area that were slow to get their power back.
He said he was told that one transformer in town was blown, causing several customers to still be without power.
Tarkington said the Checotah Community Center was available as a cooling station if needed.
Eastern Oklahoma Electric Co-Operative, based in Okmulgee, has a few hundred customers in McIntosh County, but few reported any major problems.
However more than 9,000 customers in other areas were without power.
e company routinely updated the situation, apologizing for not being able to get to customers sooner.
"Unfortunately the scale and destructiveness of this storm means our team will likely be cleaning up and making repairs throughout Father's Day. Please send up a quick prayer for the safety of our linemen," said one post by the company.
McIntosh County Emergency Management Director Je ey Moore said in a post Sunday morning that the wind speed at his operations center in Eufaula was clocked at 68 miles per hour.
"As a result, numerous reports of power lines down, snapped power poles, and widespread power outages have been pouring in from all corners of the county," he posted.
"Public utilities have been promptly noti_ed about the situation, but at present, there is no speci _c time frame available for power restoration. e communities of Checotah and Eufaula have been particularly a cted, with large sections of both cities currently without electricity. is interruption in power supply has undoubtedly caused inconvenience and concern among residents."
Moore said that in the face of the challenges "we extend our deepest gratitude to the McIntosh County Volunteer Fire Departments for their swi_ response to downed power lines and fallen trees. eir dedication and courage in ensuring public safety during this crisis are commendable."
e Department was out until 5 a.m. Sunday clearing trees and checking on downed power lines.
e Texanna Fire Department posted online that those in its area who needed to dispose of their tree limbs were welcome to bring them to the department.
"Please feel free to bring them down to the _re department and place them in our brush pile. We have opened our gate to the _eld so you can pull up to the pile easier," the post said.