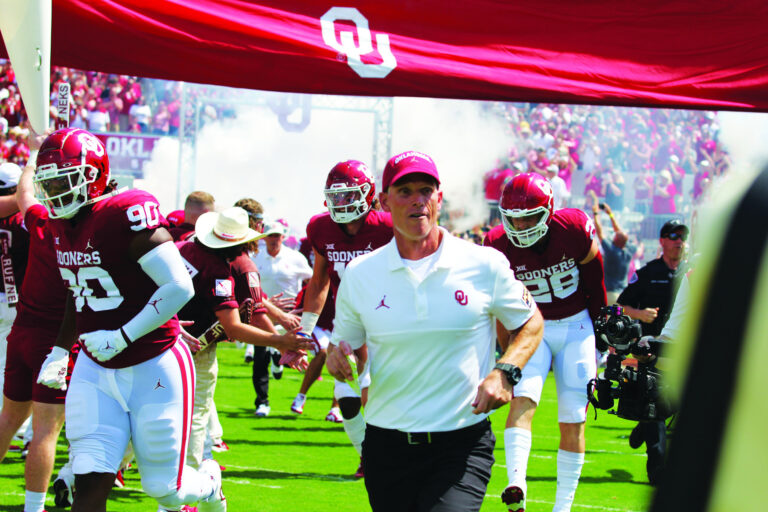 News, Sports
June 22, 2023
OU's 2024 SEC football opponents revealed
The Southeastern Conference announced 2024 football opponents for all member schools on Wednesday, including Oklahoma and Texas, which are set to join the league July 1, 2024. Home and away designations were also revealed.
As previously announced, SEC teams in 2024 will play eight conference games plus one required opponent from the ACC, Big Ten, Big 12, Pac-12 or major independent during the 2024 season when the SEC becomes a 16-team conference. Each of the 14 current SEC members will play either Oklahoma or Texas — home or away — during the 2024 season.
Oklahoma's 2024 SEC home opponents at Gaylord Family — Oklahoma Memorial Stadium will be Alabama, South Carolina and Tennessee. The Sooners' inaugural SEC season will feature road games at Auburn, LSU, Missouri and Ole Miss. OU and Texas will also meet for their annual matchup at the Cotton Bowl in Dallas, with the Sooners serving as the designated home team in 2024.
Oklahoma owns a 7630-1 (.715) combined record against its seven 2024 SEC foes that are currently in the conference. It has never faced South Carolina.
Per the SEC, 2024 opponents were determined based on two primary factors: traditional opponents and balance of schedule strength.
Balance of schedule strength was based on each school's conference winning percentage since the last expansion of the SEC in 2012. The winning percentages of Oklahoma and Texas in the Big 12 since 2012 were included in determining 16 positions ranked by winning percentage.
Each school's 2024 SEC schedule will include four opponents — two home and two away — whose winning percentage ranked among the top eight conference winning percentages since 2012. Also, each school's 2024 schedule will include four opponents — two home and two away — whose winning per-centages ranked among the second eight conference winning percentages since 2012.
The SEC noted on Wednesday that while no school will travel in 2024 to the same location it traveled in 2023, when a long-term schedule format is determined, it may not be possible to structure a schedule that does not include some schools playing at the same location in back-to-back years in the first year of a new format.
A complete 2024 SEC football schedule that includes dates of games will be announced later this year.
It was also previously announced the SEC will eliminate divisional standings beginning in 2024. The SEC Championship Game will feature the two top teams in the conference standings at the end of the regular season.
For OU football season ticket information, contact the OU Athletics Ticket Office at 405325-2424, email outickets@ ou.edu.