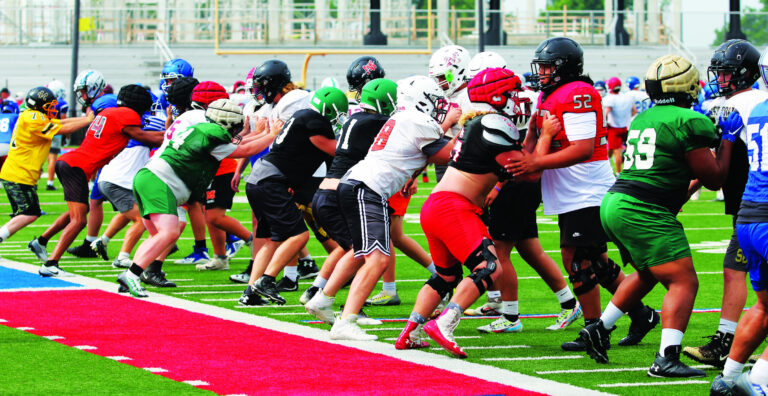 Area athletes participate in Bixby Football Linemen Camp
Nearly 500 high school and junior high school football athletes participated in a specialized camp just for linemen at Bixby High School this past week. Bixby head coach Loren Montgomery headed the activities that included football players across the state of Oklahoma, from Tuttle to Poteau, high school athletes took advantage of the multiple day camp.
Eufaula Ironhead linemen Draven Gragg and Carson Luna participated in the event.
"Draven and Carson have learned a lot already here. It's impressive to see how well run this camp is. There has to be close to 500 kids here and everyone of them is getting some one-on-one coaching," Eufaula defensive coordinator Jeremy Gragg said.
Linemen took part in everything from pass blocking drills to run blocking, guard pulling, special teams and several other drills.
"Coach Montgomery and his staff do an excellent job with this camp and on the field. There is a reason Bixby keeps winning state championships and if our players take home just a little bit more than what they started with at the camp then it will be a success," Gragg added.
Draven Gragg has been getting noticed by universities across Oklahoma and beyond. The 6'4", 270-pound senior lineman has been the anchor on the line of scrimmage for the Ironheads. He has great strength and speed and has vast knowledge on what to expect on the gridiron. He has received offers from multiple universities to play football. Gragg was named the 2022 Eufaula Indian Journal Linemen of the Year.
Carson Luna is a junior lineman for Eufaula. Luna has some raw talent to compliment his great size 6'3", 265-pounds. He has great arm span and is quick coming off the football and has the power to disrupt the opponents' backfield or deflect the football.