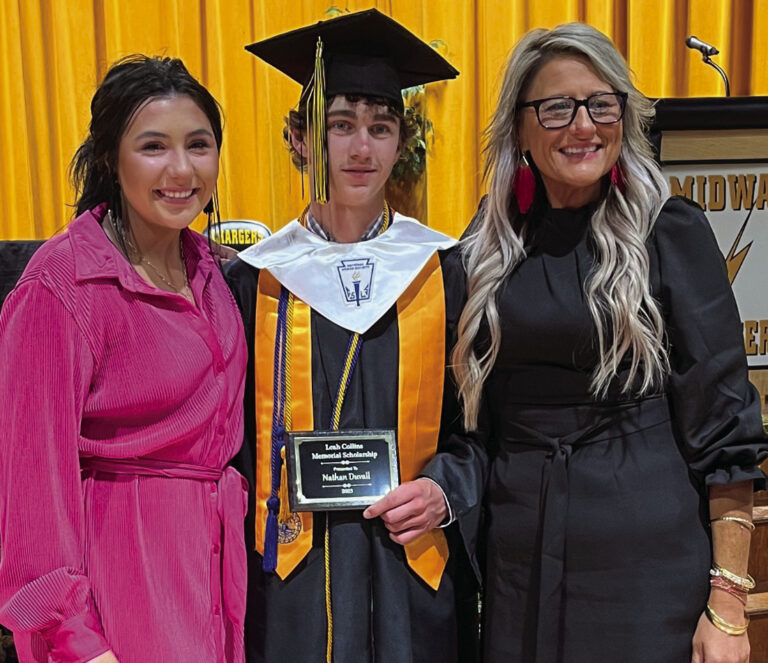 Nathan Duvall wins 2023 Leah Collins Memorial Scholarship
Midway High School Senior, Nathan William Duvall of Hitchita, is recipient of the 2023 Leah Collins Memorial Scholarship. The $1,000 scholarship is named in honor of Leah (Neumeyer) Collins, a beloved 1996 alumna and life-long supporter of Midway Public Schools. Collins, 43, passed away in 2021.
Nathan is the son of Mr. and Mrs. Tom Duvall of Hitchita; and grandson of Mr. and Mrs. William Hettich of Shawnee; and Mr. and Mrs. Emmit Duvall of Hitchita.
The scholarship is presented annually to a college- bound Midway senior who embodies the virtues of Leah Collins—character, leadership, academic excellence and a strong commitment to community service. Duvall was presented the distinguished award during Midway's 2023 commencement ceremony in Council Hill.
"Nathan Duvall is an outstanding student, a champion athlete and a natural leader," said Lori McCullar, Midway coach and the sister of Leah Collins.
"He exemplifies the passion that Leah had for serving her community and showing goodwill toward others. And, just like my sister, Nathan is a team player with a competitive spirit and strong work ethic. We're confident he'll succeed in college, in his future career in the agricultural industry, and well beyond," McCullar added.
Duvall maintained a 3.7 grade point average and earned membership in the National Honor Society all four years of high school. He lettered all four years in basketball and baseball, and was an active member of Midway's 4-H Club and FFA Chapter for a total of nine years.
He also excelled as a member of the Oklahoma High School Rodeo Association, having competed statewide and nationally in steer wrestling. He's the reigning Northeastern Oklahoma Rodeo Junior Steer Wrestling Champion and recently placed 12th at the Junior World Finals Rodeo Competition.
Duvall will pursue an associate degree in agriculture at Connors State College in Warner this fall, where he'll also compete in the National Intercollegiate Rodeo Association as a member of Connors' Rodeo Team.
"This scholarship means a great deal to me and my family, said Duvall. "I personally knew Mrs. Collins and greatly admired her positive spirit and the remarkable bravery and courage she showed throughout her illness. I hope to one day be able to continue her legacy of giving back to our community."
Those interested in supporting future scholarships can mail a check or money order to: The Leah Collins Memorial Scholarship Fund, 114386 New Texanna Road, Checotah, OK, 74426.