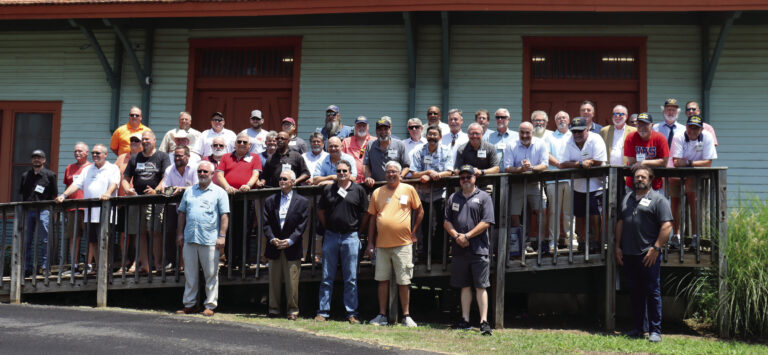 A: Main, News
June 29, 2023
USS CARR crew reunites to honor fallen sailor, Checotah's own Paul Henry Carr
Navy sailors who served on the USS CARR (FFG52) gathered in Checotah for their _rst crew reunion to honor Paul Henry Carr, whom their ship was named for and whose picture hung in their mess hall as a reminder of the great price of freedom.
e USS CARR was named for Gunner's Mate ird Class Paul Henry Carr, a Checotah farm boy who died courageously during the Battle O 3Samar, on Oct. 25, 1944, while serving on the USS Samuel B. Roberts (DE-413).
Carr would receive from the Silver Star (posthumously) as citied "for conspicuous gallantry and intrepidity as Gun Captain of a 5"/38 Mount on the U.S.S. SAMUEL B. ROBERTS (DE413), in action against enemy Japanese forces o_ Samar Island during the Second Battle of the Philippine Sea, on 25 October 1944… Although mortally wounded by the premature detonation of a powder charge, red by hand, Gunner's Mate rd Class Carr tried unassisted to load and ram the only projectile available to that mount a_er order to abandon ship had been given. His aggressive determination of duty re_ected the highest credit upon Gunner's Mate rd Class Carr and the United States Naval Service. He gallantly gave his life for his country."
Reunion coordinator Gardner "Gardie" LaMarche was assigned to the USS CARR (FFG-52) as a member of the pre-commissioning crew. s crew came aboard before the ship was fully completed and before it was commissioned on July 27, 1985. y were responsible for learning about the new ship and testing all the systems prior to the government accepting the ship from Todd Seattle Shipyard, where it was built.
"We ensured that the ship came fully stocked with everything from beans to bullets, and I mean everything, right down to the last paper clip," La-Marche said. "It was a busy and interesting time, but nothing like what was to come once the USS CARR was commissioned. I was assigned as the ship's Chief Radioman and Communications O_cer. I served onboard the USS CARR from 1985 – 1989 and retired from the Navy as a Master Chief Radioman in 1993 a_er 21 years of service.
" USS CARR was my fourth shipboard tour and my favorite by far. It's not that my other ships and shore commands were not excellent because they were. However, the USS CARR was just special because the crew was special. We had and still have an amazing bond that binds us together today. Most of us believe that bond is because our ship was named for Paul Henry Carr and not for a city, state, battle, president or an Admiral. Paul Carr was one of us. We truly did not want to let him and his legacy down.
"We worked hard on that ship, very hard as a matter of fact. So much so that to this day most of us believe that our tour onboard prepared us for anything and everything any other job could throw in our direction. When other ships could not make a scheduled commitment, the USS CARR was called upon. Our actual days at sea were among the highest the Navy had seen in decades. We met every scheduled commitment and took on more than most anyone could ever imagine. We were simply ready for anything.
"Paul Carr's portrait was initially hung in the ship's wardroom. t is where the o_cers take their meals, work and relax. Captain Bob Horne decided it would be better if that portrait was hung in the crew's mess, known as the "mess decks" where the enlisted men took their meals, relaxed and o_en did paperwork. It was a stroke of genius on Captain Horne's part as every single member of the crew saw that portrait every single day. You just could not avoid seeing it as the crew ate three or four meals there every day. mess decks was located in the center of the ship and every sailor traversing the ship from forward to a_ saw that portrait numerous times a day even when not having a meal.
"To say that seeing Paul's portrait every day had a profound e_ect on us all is an understatement. Many of us remarked that Paul Carr was with us. I know and believe that he was. Paul was there every single day watching over us for nearly 28 years."
For many of these sailors, this was the rst time they'd seen each other since serving aboard the ship, so there were lots of tales of the seas and fond memories to relive. Several sailors met at several stops in Checotah to include: Monroe's, the Katy Depot and Price Hall. Checotah Landmark Preservation Society at the Katy along with the Carr family welcomed the crew of 55 sailors (plus their spouses) from all over the states at Saturday's reunion.
" s was our rst o_cial reunion," LaMarche said. "Many of us have stayed close with our best friends from the ship but reuniting was the frosting on the cake as it had been a long time since many of us have seen each other in the _esh. We all became busy with life a_er our tours on the Carr. However, now that we are older and retired or well established in our jobs, we have made time for this reunion that proved too elusive for too long.
"Of course, we chose Checotah for our rst reunion because it is Paul Carr's hometown. Carr family and the Carr Foundation have embraced the crew members over the years. It just seemed like it was the perfect place for our rst reunion. In some way it felt like a home coming even though most of us had never been to Checotah before. It was like a pilgrimage of sorts; a way for us to honor Paul Carr, to say 'thank you' to a shipmate who never le_ our side for 28 years but who never made it back home either."
reunion ceremony began with the March on the Colors presented by the Muscogee Creek Nation Color Guard while the National Anthem was sung by Kenlee Rhodes.
invocation was given by shipmate and pastor, Pastor Myron "Dynamite" Feggins.
Opening remarks and special speakers included: Master Chief Radioman Gardner LaMarche, Checotah Mayor Daniel Tarkington, shipmate Brian Willemssen, Carr family member Jeffrey Rush, and USS Carr Captain Ned Bagley.
Rush stated that Paul Carr's mother never locked her front door a_er he went missing at sea. She always hoped that somehow he would nd his way home again. So perhaps as the roll call was called in remembrance of all the departed shipmates by shipmate Grallin Butler and while shipmate Steve Hatherley tolled the original bell o_ the ship, Carr's spirit nally found rest.
A Wreath Laying Ceremony concluded the reunion as shipmates, Al Zinola and Michael Lewis, laid one beside Carr's monument. Some of the USS CARR crew and Carr family members were moved to tears as they remembered the small town boy who fought so valiantly knowing all too well "freedom isn't free."
"Checotah was denitely the perfect place to have our inaugural reunion. whole weekend reconnected us fully to the Carr family, the community and to one another," LaMarche said.