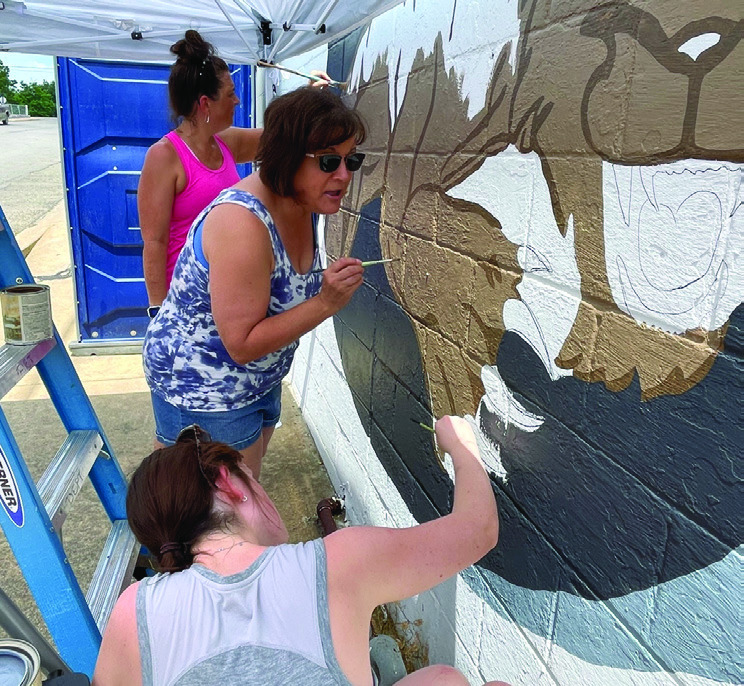 A: Main, News
July 6, 2023
Program helps paint the town
CHS art teacher Elisa Ortiz, along with her daughter Elisabeth and teacher Sheila Goad, are still painting the town through the Carolyn Watson Rural Oklahoma Community Foundation.
In 2021 the Checotah Art Class was awarded a grant through the Carolyn Watson Rural Oklahoma Community Foundation that has been helping them literally paint the town of Checotah.
Carolyn Watson was a woman of action from Ada who understood the value of blessing others with the gi_s she was given. In 1995, she established the Carolyn Watson Rural Oklahoma Community Foundation and in 2010, the Carolyn Watson Opportunities Scholarship. _rough these permanent endowment funds at the Oklahoma City Community Foundation she has provided teaching enhancements for classrooms, community literacy programs at public libraries and scholarships for students in designated rural Oklahoma communities.
"We were so excited to receive this grant two years ago," Elisa Ortiz said. "With this grant our talented art students get to design and spread their creativity throughout the community.
The artist who designed this latest design of the wildcat jumping through the paw was Georgia Brinsfield who graduated in 2022."
In June, 2021, the CHS art students, along with their art teacher Elisa Ortiz, created their first mural of a soldier standing guard at the gate in Veterans Park. Then in April, 2022, another group of seniors painted a tree design on one of the buildings out at the Checotah Sports Complex to spread creativity with the community.
This year they completed their third mural of a Wildcat at the corner of Lafayette and Broadway on the side of one of the barbershops in downtown Checotah.
"We want to continue to paint the town and share with the community our love of the arts," Ortiz said. "I would love for more business and building owners to contact me if they are interested and willing to let us paint on their buildings."
If interested in having a mural painted in town call 918-284-6300.