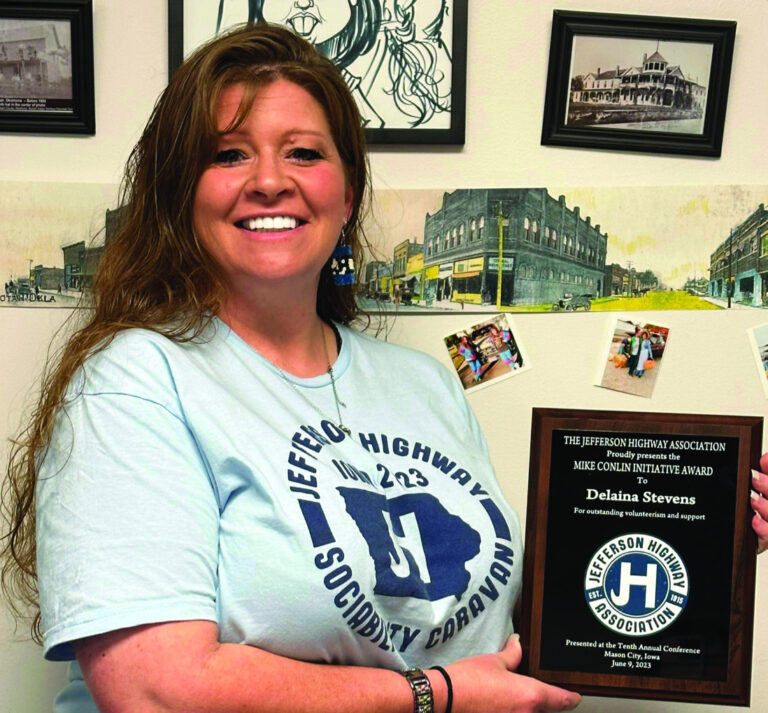 Stevens wins Jefferson Highway award
During the Jefferson Highway Association (JHA) 2023 Conference Awards Banquet, local Checotah resident, Delaina Durrett-Stevens, was presented the 2023 Mike Conlin Initiative Award for outstanding volunteerism and support.
This special new award was named in honor of JHA member Mike Conlin, who was a primary individual in initiating the revival of interest in the Jefferson Highway and the formation of the current organization in and around 2009. Conlin passed away in early 2023 and the award is a legacy to his initiative and effort to promote the Jefferson Highway.
Stevens and her family first became interested in the Jefferson Highway Association while she was Director of the Checotah Chamber of Commerce. Her inspiration was the late Emmy Stidham who was the first ambassador to promote the highway years ago. After becoming part of the local chamber, Stevens was encouraged to go to the 2019 Jefferson Highway conference in Natchitoches, Louisiana. Stevens, who is family-oriented, brought along her family, Brad and Meadow Stevens, and fell in love with the Jefferson Highway Association. Since that time, she has been an important part of the efforts in Oklahoma to help promote the Jefferson Highway.
In 2020 Stevens joined the Jefferson Highway Association as a board director. She recently renewed to serve another term.
The Jefferson Highway organization comments that Steven's positive energy and willingness to help and serve wherever she can has been important to their recent success and growth. Stevens has stepped in to give presentations for the JHA, has set up community information booths, worked directly with community leaders, helped in setup and planning of the Oklahoma Jefferson Highway Summits and recently initiated action to establish an online store which was used during their Iowa Sociability Caravan.
The committee thanked Stevens for her support and eagerness to serve the Jefferson Highway Association and congratulated her on her award.
Stevens is currently a program coordinator for Options Inc. in Checotah.