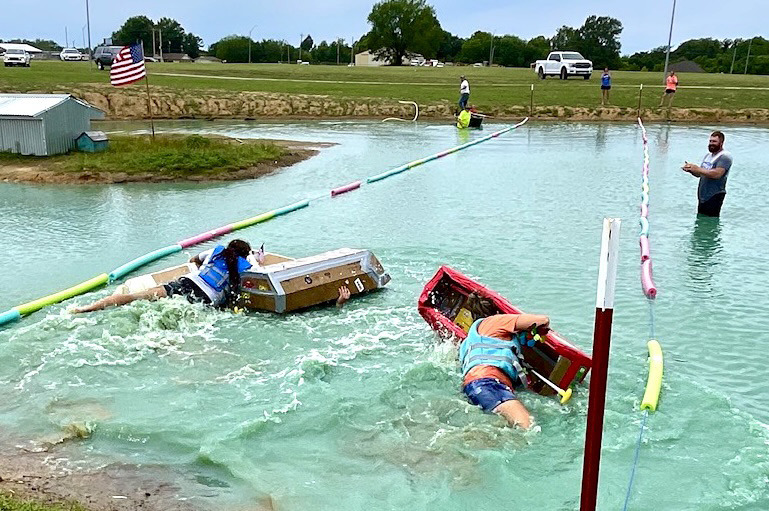 Checotah celebrates freedom in style
Checotah celebrated their freedom in style this year with a full day packed with fun, food and fellowship at their annual Freedom Celebration. There was even a new lighted sign of an eagle flying over the driveway with the words "Proud To Be."
Freedom Celebration started bright and early with a friendly competition of corn hole with 22 teams that squared off to take home the title of champion. After many hours, first place went to Sarae Butler and Austin Powers; 2nd place Ronnie Fisher and Ricky Snodgrass and 3rd place Ashley Funburg and Bryan Merseborgh.
Then it was off to the fishing hole with the kids to see if they could win fishing rods and the grand prize of $100. Four-year-old Montana Fields was the 1st place winner of the $100 but being so young didn't quite understand why he wasn't getting a fishing pole like all the others, so sponsor Jeff Gaxiola made sure he got a pole too. Second place went to Robert Wheeler, 3rd Bryce Gaxiola, 4th Easton Mahoney and 5th Jaxson Laguna.
The homerun derby winner was 9-year-old Austin Girty.
At the hole-in-one golf competition there were a few hoping to fly high but some landed a little short. The winners of the men's competition were 1st place Weston Brown, 2nd place Bubba Casey and 3rd place Branson Howell. In the women's competition it was Savanna Brown taking 1st place, 2nd place going to Crystal Madewell and 3rd place Lacy Casey.
The cardboard boat races were new to this year's celebration and quite the entertainment! The first race was the children's competition with Ukiah Fairchilds smoking the other competitors to take 1st place as he straddled his boxes and paddled down the course with ease. Second place went to Elizabeth Paris who was a good captain and sport as she went down with her USS Happy Paws ship, while 3rd place went to the smallest contestant, 2-year-old Hallory Tarkington.
Watching the adults compete in the boat race was even more entertaining as they made quite the splash jumping in. Mayor Daniel Tarkington even capsized his boat and went under the water yet never let go as he resurfaced again. However, it was Margaret Casey who figured out her strategy and took 1st place, as the mayor floundered, broke his paddle, but then used the turtle-shell approach to come in 2nd place with Julie Burnett finally bobbing and battling her way back for 3rd place.
Also new to the venue was the children's tractor pull where they peddled their assigned weight as many feet as they could possibly pedal.
Winners in each age group were: 3's – 1st place Beaux Smith, 2nd place Rye Maxwell 4-5's – 1st place Bricelyn R., 2nd place Montana Fields 6's – 1st place Sawyer Pearce, 2nd place Andi Walker, 3rd place Mav Bridges 7's – 1st place Scout Lovett, 2nd place Bradi Howell, 3rd place Jordan Tarkington 8's – 1st place Avorie Merritt, 2nd place Raylynn Tarkington, 3rd place Joel Rula 9's – 1st place Remi Walker, 2nd place Ava Fitzgerald, 3rd place Brentley Kessler 10's – 1st place Kenzie D., 2nd place Paislie R., 3rd place Kenzie P.
11's – 1st place Chris Merrett, 2nd place Max Bridges, 3rd place Kaden Branchcomb 12's – 1st place Dante Larson The annual lawnmower races didn't disappoint as participants went round and round the track trying to own this year's bragging rights. The new Director of Sports and Recreation Chris Brown was even involved in a hit and run incident as the mayor tried to plow down his competition leaving Brown curled up into a fetal position on the course after taking him out by the ankles. Brown later stated that he now understands the meaning of having some "skin in the game" when working for the city.
Winners in the lawnmower races were: Stock Class – 1st place Andy Burnett Blindfold Class – 1st place George Burnett and Andy Burnett Reverse Race- 1st place Conner Curtis Modified Mower – 1st place Andy Burnett Also in the new wheelbarrow race event, Brandon (Buck) Fields and Briana Fields took first place as they wheeled past their competitors.
There were a variety of craft and food vendors, not to mention many rides and games to keep everyone busy all day, but the crowd really started pouring in when the band, Shiloh & Going For Broke, took the stage just before 8 p.m. They performed several crowd favorites until the City of Checotah put on one of the best firework shows in the area leaving everyone cheering for more.
Mayor Daniel Tarkington stated about the entire event, "I appreciate everyone for coming out to this year's celebration and please be back next year because it will be even bigger and better! We will have more free and fun events that you won't want to miss. A big thank you to the city council members and city employees for volunteering their time to make the best firework show in the county and to the business owners that helped sponsor some of the events: D's Wrecker, Hosstyle Motors, Jeff Gaxiola, Heritage Waste, Judge Bridges and Family, the Checotah Chamber of Commerce and of course our local newspaper, the McIntosh County Democrat."