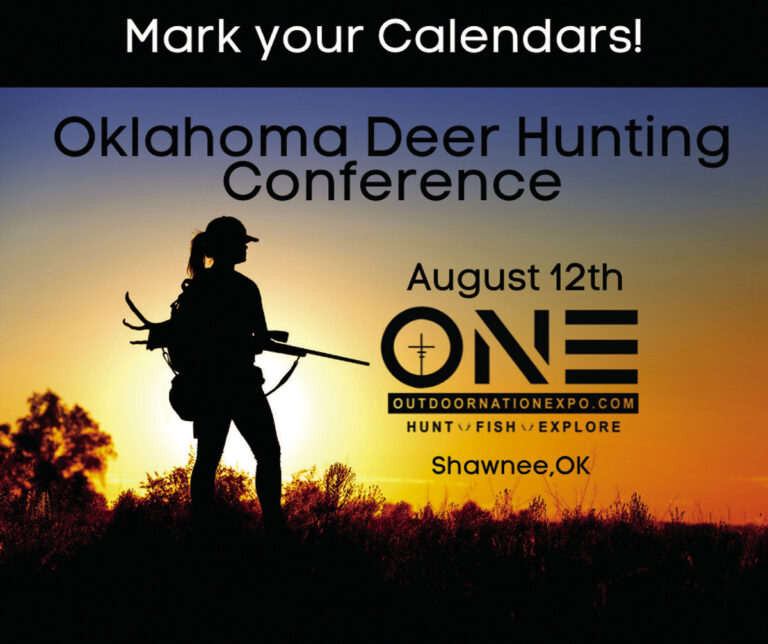 Register today for the Deer Hunting Conference
We are thrilled to announce the 2023 Deer Hunting Conference, hosted by the newly formed Oklahoma Hunters & Anglers (OHA), the Outdoor Nation Expo (ONE), and the Oklahoma Department of Wildlife Conservation (ODWC). This event, happening on August 12, promises to be the best in its fiveyear history.
The doors to the Firelake Arena open at 8:00 a.m. for conference attendees. The conference kicks off with a brief opening session from 8:30 a.m. to 8:45 a.m., followed by two rounds of breakout sessions starting at 9:00 a.m. Each of the 12 sessions, plus two lunch sessions, are limited to one hour with a 15-minute break between sessions. The last session wraps up at 5:15 p.m.
The list of breakout sessions taught by ODWC and industry experts include: – Field Care and Skinning- Steve Abbot – Complete Deer Hunter-Daniel McVay – Deer Biology 101 with ODWC's Jerry Shaw – Field to Fork with Killer Chef – Q&A with Buckventures – Q&A with Lacie and Tess – Deer Hunting Safety and Hunting Regulations with ODWC's Jacob Harriet – How to Think Like a Deer- Jeff Danker – Finding a Place to Hunt, Including Urban Hunting- ODWC's Jeff Tibbits – Introduction to Deer Hunting with Zach Smith – Shot Placement and Tracking After the Shot-ODWC's Kelly Boyer – Introduction to Bow Hunting with Robert Wood – Q&A with Daniel McVay of Buckventures – Essential Hunting Gear for the Beginner with ODWC's Todd Craighead Go to Oklahoma Department of Wildlife Conservation and register