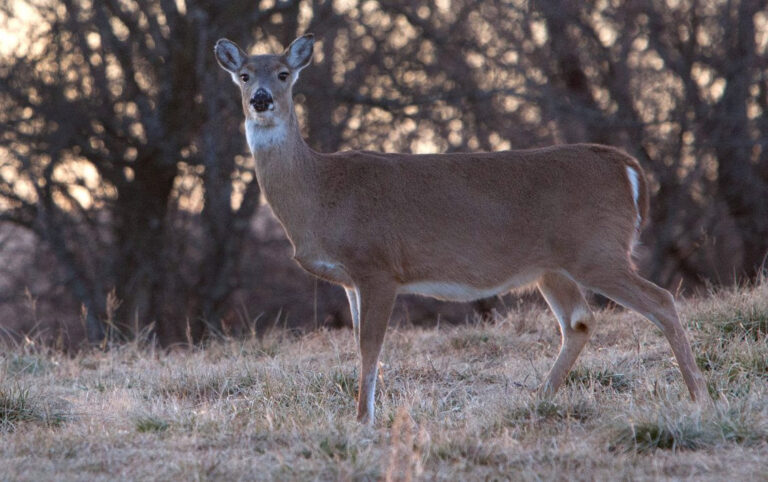 Second sick deer found as cases of Wasting Disease increases
The past month marks Oklahoma's turn to fill some gaps in the rapidly expanding national Chronic Wasting Disease map.
In July 2020, the U.S. Geological Survey reported just 26 states had logged the fatal disease in free-ranging deer and elk. In June 2023, Oklahoma became the 30th state to document chronic wasting disease among its wild deer, and Florida became the 31st. Monday, the Oklahoma Department of Wildlife Conservation reported its second CWD case in a second county.
The cases come as agencies nationwide ramp up CWD study and mitigation efforts. Congress passed the Chronic Wasting Disease Research and Management Act as part of December's $1.7 trillion fiscal year 2023 funding deal. It provides $70 million annually for the next five years to state and tribal natural resource agencies to study and curb the spread of the disease.
A Michigan Department of Natural Resources survey in 2021 showed Oklahoma spent the least of 32 responding states on CWD efforts, at about $8,000. Texas reported the largest budget at about $2.1 million. The survey noted a $773,000 average annual expense among states with ongoing CWD issues.
The Wildlife Department started testing deer for CWD in 1999 and, even with no positive results, acknowledged the disease likely was present to some degree due to findings in surrounding states.
CWD is a variety of spongiform encephalopathy, similar to mad cow disease and scrapie in sheep and goats. It is the only such disease known to infect wild cervids. The always-fatal neurological disorder affects the brains of deer, elk, moose, and other cervid family members, creating holes resembling sponges.
The National Centers for Disease Control and Prevention reports no known cases of CWD spread to humans. However, the agency recommends hunters have deer tested and recommends not eating the meat of CWD-positive deer.
On Monday, Wildlife Department officials found the state's second CWD deer about 15 miles east of Woodward, in Woodward County. A landowner reported the animal behaving abnormally. Officials found the state's first case in Texas County, near Optima, roughly 115 miles to the west.
Last year, the Texas Parks and Wildlife Department reported a CWD-positive deer as road-killed. While in Texas, it was near Felt, in Cimarron County, roughly 200 miles west of Monday's find.
Each incident prompted activation of the state's CWD Response Strategy, a joint plan of the Wildlife Department and the Oklahoma Department of Agriculture, Food and Forestry.
In the department's Monday announcement, wildlife programs supervisor Jerry Shaw said, "We will be working through our response plan implementing surveillance efforts and steps to monitor and slow the potential spread of this disease. Our ultimate goal is to ensure healthy and well-managed deer with as little impact to either the resource or our constituents as possible."
For the 2022 hunting season, the department created a 100-square-mile Selective Surveillance Area south of Boise City to the Texas and New Mexico state lines. The rules required hunters to process deer or elk taken within the area's boundaries before leaving. Hunters could take home only processed meat, detached antlers, or other cleaned or taxidermied items.
The department also encouraged voluntary testing and provided a freezer at a dropoff point in Boise City for hunters to drop off deer heads. The department reported no positive results from the hunting season.
Two previous CWD cases in Oklahoma involved captive, farm-raised elk in Oklahoma County in 1998 and Lincoln County in 2019. State Agriculture Dept. officials euthanized all the elk in those facilities, and those operations are no longer allowed to raise cervid species.
First identified in captive mule deer in the late 1960s in Colorado and in free-ranging elk in the 1980s, CWD has expanded across most of the U.S. and three Canadian provinces, according to the National Wildlife Health Center of the U.S. Geological Survey.
The Center reports a growing prevalence of CWD. In heavily affected areas of Wyoming, Colorado, and Wisconsin, the Center estimates more than 40% of free-ranging cervids are infected. According to the Center, wildlife managers and researchers have documented CWD-associated population declines in white-tailed deer, mule deer, and elk in those states.
While states with a history of CWD surround Oklahoma, reports nearest to Florida's first were hundreds of miles away, in northwest Alabama and eastern Mississippi. Georgia and Alabama announced increased sampling efforts after the Florida report.
States take various measures to reduce CWD, including strict regulations on domestic cervid operations, banning or limiting wildlife feeding or baiting, requiring testing of animals hunted in certain areas, requiring in-area deer processing and carcass disposal rules, lowering population densities through hunting or professional removal, and increasing public awareness. Tennessee recently announced that wildlife rehabilitation centers would no longer be allowed to rescue deer fawns due to the spread of CWD.
Additional human health information relating to CWD is available from the U.S. Geological Survey at usgs.gov/centers/nwhc/science/.
For more information on the disease, hunting regulations, and proper disposal of infected animals, check the state Wildlife Department website at wildlifedepartment. com/.
The Oklahoma Ecology Project is a nonprofit dedicated to in-depth reporting on Oklahoma's conservation and environmental issues. Learn more at okecology. org