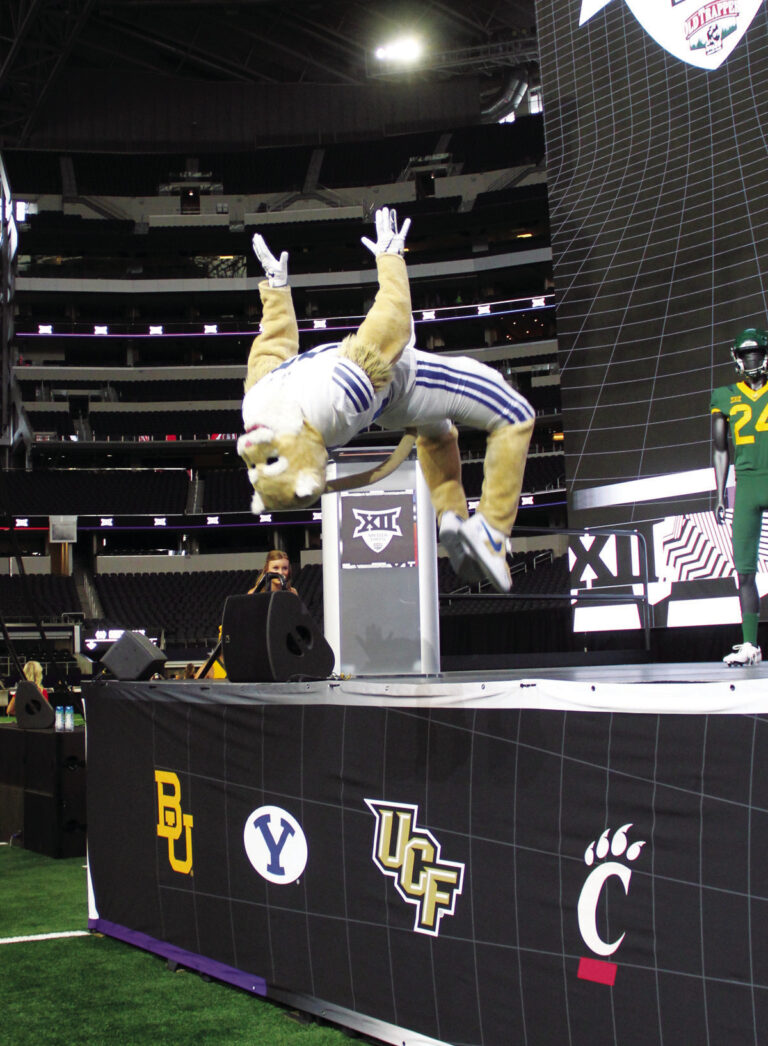 BYU flipping over joining the Big 12
Mike Gundy addresses OU rival/ Venables excited about depth
Big 12 Media Breakdown
The 2023 Big 12 Media Days at AT&T Stadium in Arlington was extra special this year with the added schools to the Big 12 conference, Oklahoma State head coach Mike Gundy's reaction to the end of the Sooners vs. Cowboys rival and OU head coach Brent Venables excitement about the depth of his team.
One of the biggest changes is Brigham Young University joining the conference. BYU head coach Kalani Sitake opened with the following statement: "I just want to take this time in my statement to express my gratitude and appreciation for being here at media days. This is a lot of fun. Being an independent, I wasn't able to experience this as a head coach, so this is my first time. I was actually getting some pointers and some tips from Kedon Slovis. He's been through more media days than I have. But looking forward to this opportunity to be here to speak in front of you. Want to express our gratitude from our program to the Big 12 conference and Commissioner Yormark. I've been really impressed with his leadership and I'm excited to follow his leadership and I love the innovative and creative ways of approaching college football, and looking forward to following him as a leader. I've been able to meet and associate myself and get connected with so many coaches in the Big 12 meetings and the Big 12 Conference and meet the administrators from all the different institutions, as well, and I can tell you I've been impressed with all of them and how kind they've been to myself and to our staff. So I want to express my gratitude and appreciation to all of them helping us through this transition as we get into the Big 12. Finally, I want to express gratitude to the BYU administration, to our president, and recognize him, our new president, Shane Reese that's here with us, and our athletic director Tom Holmo that's here. I also want to recognize our former president that's put so much energy and service into what we've done here. He's been amazing and a great mentor to myself is Kevin Worthen. I also want to show my appreciation to our team and our players. They're so excited. When the schedule came out, they were really excited about the schedule. I didn't have to do much as a leader to motivate them after seeing that. Just wanted to let them know how much I appreciate being their coach. Finally, I want to just express my appreciation and love for all the BYU fans, Cougar Nation. They're amazing. I grew up a BYU fan and I lived the dream as a BYU fan. Then I got to live another dream playing for LaVell Edwards, a legend, and now I'm the head coach. So you can imagine how I feel. This has been a great dream for me, so please don't wake me up. I'm enjoying it. We're in the Big 12 now, and I am excited for everyone to get to meet our fan base and see how they've been a strength for us and our program and definitely a strength for me as a head coach. Finally just thank you media members for being here. Looking forward to getting to know you guys as we go to different places, and that's national media that covers their schools. Looking forward to knowing you and getting to know you better and visiting your places and doing interviews with you," BYU coach Kalani Sitake said.
Oklahoma State
Oklahoma State head coach Mike Gundy chose not to have an opening statement and was quickly asked about Bedlam. The Bedlam game is going to be laid to rest because of the happenings, but would you entertain the idea from your perspective and Oklahoma State to play them as a non-conference game?
"No. We have nine conference games scheduled, and then we have, I think, through 15 years, we're scheduled all the way up, and we're full for the most part, and we have Power Five teams. I'm going to go back to what I said earlier. Oklahoma State is not going to change what we do because Oklahoma chose to go to the SEC. They need to change what they do because they're the ones that made their mind up to go to the SEC. So with all the talk from administration and people saying that Oklahoma State needs to do this and that, all Oklahoma had to do was not go to the SEC. So it is what it is. We can cut right to the chase. For me, I want to listen to the board. I'll listen to the president. I'll listen to the AD if that's something they want to do. I'm good. But I don't think it's going to happen based on the way the scheduling is. Everybody needs to realize, it didn't have to happen if they didn't change leagues," Gundy said.
Oklahoma
Oklahoma head coach Brent Venables opened with the following statement; "Good to see everybody. Appreciate everybody being here today. Just 2023, incredibly excited about this season, about our team. I'd like to recognize our players that are here, Dillon Gabriel, Drake Stoops, Jonah Laulu, and Danny Stutsman, three incredible young men that are about all the right stuff. Thankful to be here with them here today and to be in front of y'all. Last year in the Big 12 Conference, and having most of you know my background. I played at Kansas State as the former Big 8 and had the good fortune to coach in the very first Big 12 game in conference history, Kansas State versus Texas Tech, Zebbie Lethridge and Byron Hanspard and the great Spike Dykes, and what an amazing time it's been in this conference. All of the opportunities in my life that I have here as a coach have all come from this conference, the Big 8, the Big 12, the coaches, the great mentors that I've had and all the amazing players that have helped me have a career of success. Incredibly thankful for this conference and what it's meant.
And as we all know, this is a conference that takes a backseat to nobody. Incredibly exciting having the new four teams, UCF, Cincinnati, BYU and Houston. Great coaches, great teams, great history and tradition that these teams will bring into this program. I just want to say I appreciate our commissioner for his leadership. The Big 12 is in great hands under his directorship and what he's doing for this conference. There's no doubt that the best is still yet to come for this conference. We've had tremendous turnover, like a lot of people in this day and age of college football. Like many people, there's been tremendous roster turnover. We desire a roster of stability and consistency. I think that's what lends to success and sustainability. But it's also losing players is — to me I look at it as a great opportunity for the new guys. We've got 123 players on team 129, and out of those 123 players, 97 of them will be in either their first or their second year at the University of Oklahoma. Tremendous turnover, but I couldn't be more excited about the group of guys. It goes without saying, we went 6-7 last year and fell well below our expectations and our standards at Oklahoma, but man, we learned and grew a lot as a football program. In five of the seven losses, it goes down to the last minute, two minutes of the game in the fourth quarter with a chance to win. We've looked long and hard in the offseason, since January, of what we need to do to become a more efficient football team, and we've looked at every single part of our program, how we can improve and get better. Nothing ever stays the same. We spent a lot of the offseason practicing, film review, programatically, coaching, all the things that you go into a season where we can get better, and really excited about the improvements that we've made a year into where we're at right now, and a year into our systems, a year into our strength and conditioning, the PRs, the improvements that we've made in the weight room. Just had our best academic semester in the history of Oklahoma football. Everything matters in what we do and how we do it, how we can become a more efficient football team. 3rd and 4th down on both sides of the ball, certainly our red zone defense, handling the fourth quarter of games. Really love the competitive depth that we've both developed with our current players, our returning players, and what we've recruited both out of high school with 40 new scholarship players and 17 transfers. Really believe that because of the competitive depth we'll have a little bit stronger fourth quarter output on both sides of the ball, a quarter of football where we performed very poorly last year, which led to five one-score losses for us,"Venables said.
Venables was asked about coach Mike Gundy blaming OU for not playing the Bedlam game and would he consider playing Oklahoma State in a non-conference game.
"I appreciate the question, and say hey to Steve for me. Look, I'm not in control of whether or not we play Oklahoma State. I love college football. I love the traditions of the game. I love rivalry games. Oklahoma and Oklahoma State have played for over 100 years, and Oklahoma has been dang good in those games for a long time. But whether or not we play them in the future, nobody is asking me what I think. If they do ask me, I'll tell them what I think. I'd love to play the game. But we're going to play the schedule that they put in front of us," Venables responded.
When asked about last year's defense compared to the upcoming season Venables replied," We led the Big 12 in interceptions. We led the Big 12 in tackles for loss. Those are building blocks, things you can build from. Scoring defense, I think we're in the 90s. That's where it starts, keeping people out of the end zone, becoming a better red zone defense, stopping people. We were really poor stopping people in the run game. I think leading the country last year you've got to be around 2.4 yards a carry we were at 4.4 yards a carry. So how do we shave off a couple of yards? A couple of yards is a lot. I get it. I know what that looks like. But you do it in everything that you're doing for a defensive standpoint. From again, how you practice to how you teach, all of those things. But I believe we'll be better because of the returning experience. We'll be better fundamentally, we'll be better aggressiveness, we'll be better with our timing and our precision and our physicality as a result of some returning experience, guys like Danny Stutsman or Billy Bowman, Key Lawrence, Woodi Washington, Jonah [Laulu], Ethan Downs. And then the addition — again, we've got nine guys, six guys up front, two All-American linebackers, a hard-hitting safety in Reggie Pearson. I believe we'll be better up the middle of our defense, and I look at where we were at really at every single position, and we didn't have the competitive depth a year ago."