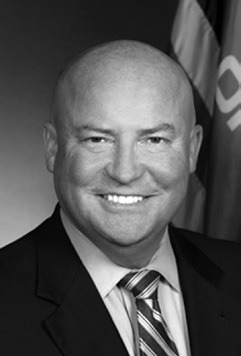 Child Advocates to be Honored on Sat., July 29
For the Children Child Advocates to be Honored on Sat., July 29
Joe Dorman CEO – OICA OKLAHOMA CITY – Each summer, the Oklahoma Institute for Child Advocacy (OICA) holds our annual Heroes Ball to celebrate champions for children selected by our Board of Directors.
This year, our honorees are the Cherokee Nation (Organizational Advocate of the Year), Jabee Williams (Individual Advocate of the Year), the Potts Family (Lifetime Achievement), and former First Ladies Donna Nigh and Cathy Keating (public servant awards). Each of these has demonstrated tremendous support for youth-related programs over this past year and OICA wants to express gratitude to each of them through this recognition.
In addition to these awards, OICA asks for nominations from Oklahomans regarding who should be a people's choice nominee for an individual and an organization for us also to recognize. We are fully aware there are people and organizations who we might not hear about that are doing tremendous good.
Following the nomination period, our board narrows those down to a select few to put forward in a public vote for you to help decide who should receive this honor. I am pleased to announce the finalists, and they are: In the individual category, the nominees are: Dr. Tessa Chesher, Rebecca Craig, Dr. Crystal Hernandez, Rachel Goble, Mary Blankenship Pointer, and Alethea Satterwhite.
The organizational category nominees are: Center for Children and Families, Child Advocacy Centers of Oklahoma, Children's Health Foundation of Oklahoma, Delta Dental of Oklahoma Foundation, Public Health Institute of Oklahoma, Sara's Project, and WovenLife.
Please go to https://www.oica.org and click on the link for the Anne Roberts People's Choice Award, named after our longest-serving executive director, to read about why these nominees were selected and cast your vote while there for your choice in each category.
You may vote up to once per day with individual email addresses, so also please share on your social media or with your friends to encourage them to vote. We want to not only select a winner, but to also raise awareness of what each of these nominees is doing to help better the lives of children in Oklahoma.
Banquet attendees will also receive a final paper ballot to help finish off the voting, and "day of " voting has had an impact in past years.
If you are interested in attending the 7th Annual OICA Heroes Ball, we would love to have you be a part of this event. We are selling tickets until the end of this upcoming Friday, July 21. Tickets may be purchased at the link above.
The Heroes Ball will be Saturday, July 29 at the National Cowboy & Western Heritage Museum. The program will begin at 7 p.m. with a VIP reception held to honor the award winners and nominees, along with our special guests.
Those will include Oklahoma's Kid Governor, Mila O'Brien, our keynote speaker for the banquet, along with Attorney General Gentner Drummond and Labor Commissioner Leslie Osborn.
Other VIP invitees pending their schedules are Senate President Pro Tempore Greg Treat, Senate Democratic Leader Kay Floyd, House Speaker Charles McCall, and House Democratic Leader Cyndi Munson, along with other members of the Oklahoma Legislature. The event will conclude with an after-party with live music following the program.
Thank you to those sponsors who have made this a success, including OKC Friday for sponsoring the costume competition. As this is a superhero themed event, we would be thrilled to see attendees show up in costume, with the theme being "X-Men" as it is their 60th anniversary of publication. We hope to see you at the Heroes Ball!