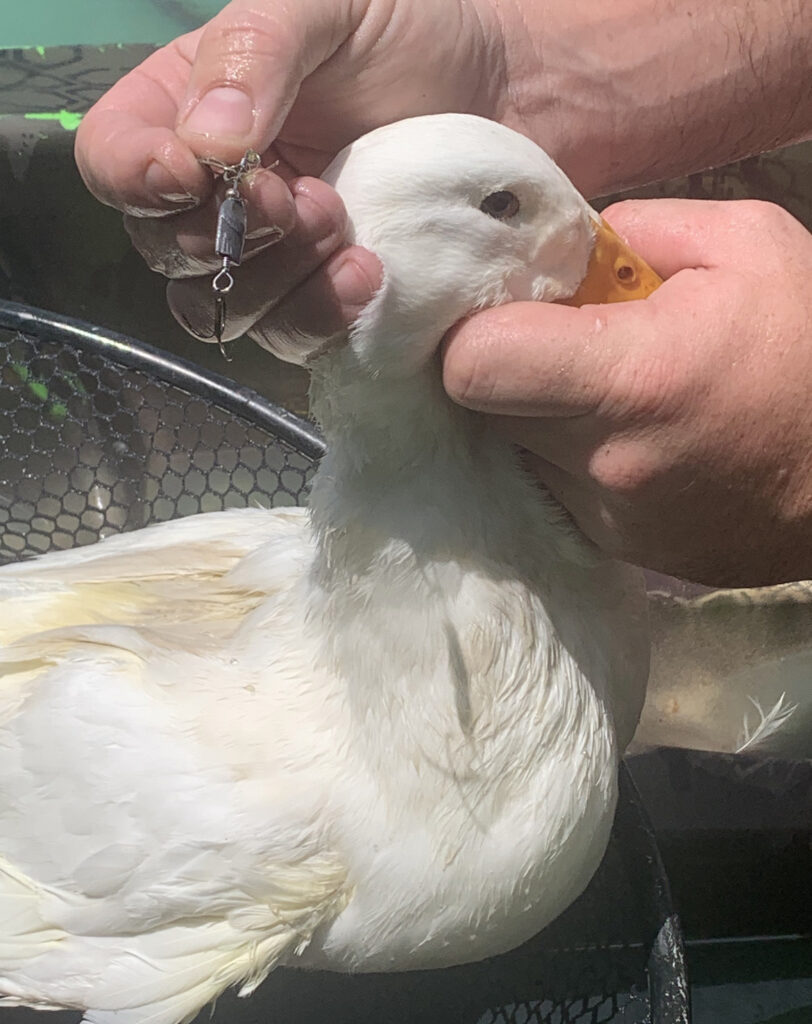 Duck rescued at city pond
Game Warden Jake Rowland recently came to the rescue of a sweet, little duck that had gotten entangled with a fish hook at the pond at the Checotah Sports Complex.
"We were thankful that a concerned citizen contacted me about the situation and I called the police who in turn called the game warden to come out to help," Director of Sports and Recreation Chris Brown said.
Rowland had to first launch his kayak to get close enough to catch the duck in a fishing net. Then once the duck was secure, the game warden was able to remove the hook and lure without further injury to the animal.
There are around 10 ducks and one goose at the city pond. Most were hatchlings from this year and a few were already here before spring.
"Generally they are pretty content on their little duck island," Brown said. "Andy Burnett and James 'Puddin' Curtis built them a little building so they would have a place to stay and get into when it storms. They even gave them a flag pole with their own American flag to display; after all, these are patriotic ducks.
"The city also built a small deck on the pond so everyone could come enjoy the ducks and even throw out some bread to them. I know one lady comes regularly to feed them. Of course, everyone is also welcome to fish at the pond if they would like too. However, it's catch and release only.
"We are thankful for Game Warden Rowland coming to our duck's rescue and we couldn't be more proud of the Checotah Sports Complex and all the activities it has to offer. From the walking trail to the playground and ball areas, to our disc golf course to the covered pavilion to our Splash Pad that's really being utilized during this hot and humid summer. There's really something for everyone to enjoy at the Checotah Sports Complex so come on out and bring the whole family."