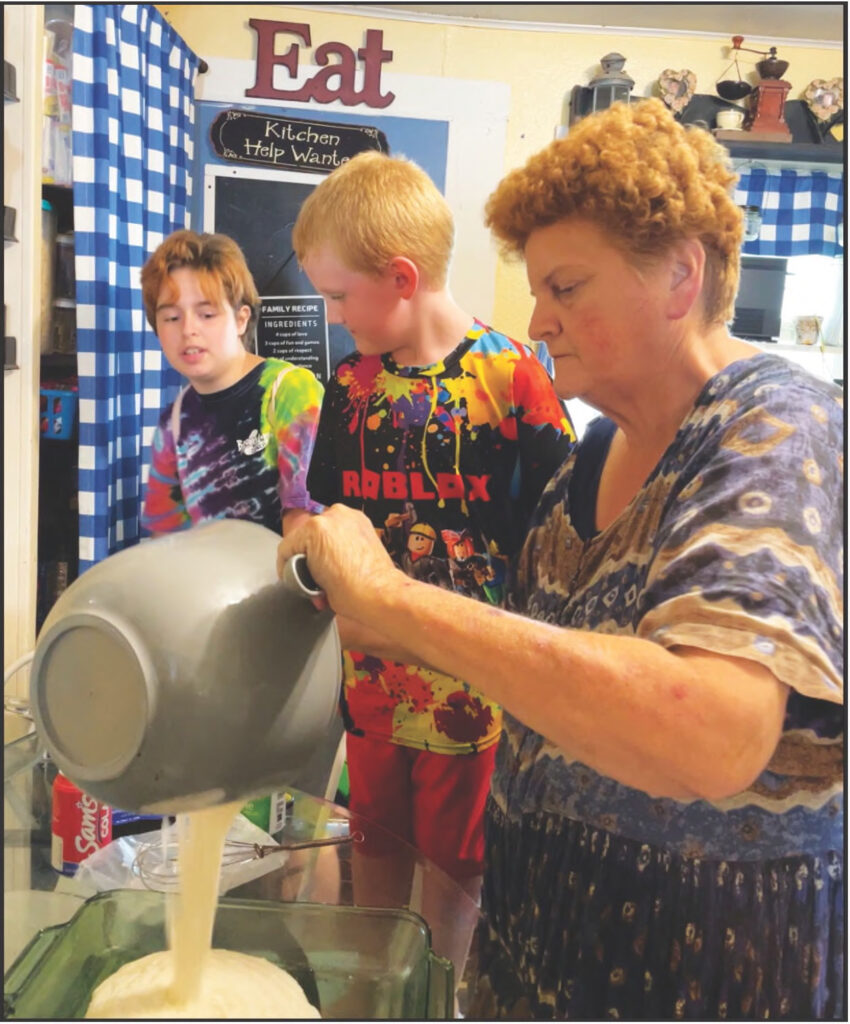 Special mom raises special kids
It takes a special mom to raise special kids and Roxy Moore has been that kind of mom for over 33 years. Though Roxy lost her first born son at birth, she went on to have two more sons, Robert and Rusty, adopt five girls, Angie, Deztiny, Jessie, Emily and Lisa, and has fostered over 400 hundred children for over 14 years.
"I haven't fostered in about seven years because of all the surgeries I've had to endure," Roxy said. "After I had two total-knee replacements and several back surgeries, it just got to the point that I felt like I couldn't chase them or play with them the same.
"However, back when I was fostering I was the closest foster home to our main office so I was often the transfer home. Some children I fostered for years, others for a few days or hours. I was keeping up with how many I fostered over the years but I stopped counting around 400. I also had kids sent to my home for specialized testing so they could get tested.
My son Rusty was 12 years old when I started and he's 33 now. I was at Old Settlers Day and a person working for the Wesleyan foster care recruited me. Then I thought therapeutic foster care was kids in wheelchairs but I found out that a lot of them were just kids with special mental needs. My dad was a triplegic so this was much easier in my eyes. We just had lots of counseling appointments to make.
"My grandma always said 'idle hands make a weak mind' but I say nothing to do will cause depression so I keep my kids busy. I think all kids can help no matter their age. A baby brings joy, while a two-year-old child wants something to do. I let them do anything I'm doing. The 6-year-old likes to bake and the 14-year-old loves to paint walls so why not let them."
Only two of Roxy's adoptive daughters still live at the same home she bought years ago and fixed up little by little. Emily is now 19 and Lisa is 14. However, she helps raise her three grandkids also. Hailey is 16. Austin is 11, and Gunner is a very active6- year-old. "I loved to foster, but to me it really wasn't fostering. Every kid that was at my house was my kid, end of story. I believed in them. We all ate the same food and did the same things. We were family no matter where their lives started from or finished, they were all my kids once they were in my house.
"A lot of kids in my home were adopted. Some went back to their homes. That's just the way it is. In life we all have choices; where we are, where we are going, what we will do and will we be happy. It's all a choice. I just try to help them make good choices.
Roxy credits her parents for a lot of her patience and persistence in helping others.
"My parents always helped whoever they could. We were poor but never refused to feed a meal to anyone hungry. I remember mom having a yard sale and I saw someone stealing. I asked mom did she want me to say something to them and she said 'No if they need it bad enough to steal, then I can surely turn a blind eye.' That's just how she was.
"I remember once the neighbors ran out of food. Mom called out a '911' to our family and within two hours I was running around collecting anything from wild game to toilet paper. Everyone gave a little of what they could share and we filled their pantry." This is probably why I like to volunteer so much and why I teach the kids to volunteer too. Everyone has a little time to give and everyone has a little of something that they can give. My kids love to help. We volunteer at the Methodist Mission now. The teens can help sort clothes and hang them and the little kids usually help sort the toy bins. But everyone can do something.
"A few years back we volunteered at the Christmas community dinner that the Cunningham's started. The girls loved serving the people and I donated a pie and cake. We also helped with other bake sales and anywhere we could help. Just get your kids into charity work because it builds personality and a generous heart.
"I also did home health and many other jobs that involved working with aging and disabled people. So I exposed my kids to as many different things that could turn into a career for them. A lot of people love to show kids how to do what they do and it gives kids the idea if they want to do it later in life.
"Our first shot at social skills is at school and church. I also love yard sales and flea markets because the kids have to ask questions. Learning to communicate and connect with people is important in life. We are losing that if we don't teach it. Most people notice how grateful the kids are. When they go get a pop, before they even get a drink, the car is filled with 'Thanks mom.' That's what I love most.
"I also pay an allowance every Friday to my kids, so they have their own money to spend as they please. They can buy most anything, except weapons. This teaches healthy work ethics and how to earn money and budget money. I try to teach my kids 'new is not always better' and to buy things that are on sale. We shop at the mission a lot because this helps feed other people. The kids are very aware of why we shop there. It's a winwin for everyone and the kids are so excited to shop for themselves. We also shop Teen Challenge and Jesus Helping Hands, even Walmart when we can find things on sale.
"Never once have I regretted my decision to foster and adopt. It was if I was supposed to and I'm so glad I did. I would still foster if I could. Most people don't know if you want to adopt a DHS child, DHS pays the adoption fees and all processing fees. They even pay for the name change for the child and the child will keep their insurance until they turn 19. There are also college grants for kids to go to school for free as long as the kids make the grades.
"I have encouraged many parents to adopt and you can adopt as a single parent. I've been asked would I adopt again and I would! People also ask me if I loved to foster, my answer is yes! Fostering is so needed and so rewarding. Fostering made me a thankful person and I will always be grateful for that."