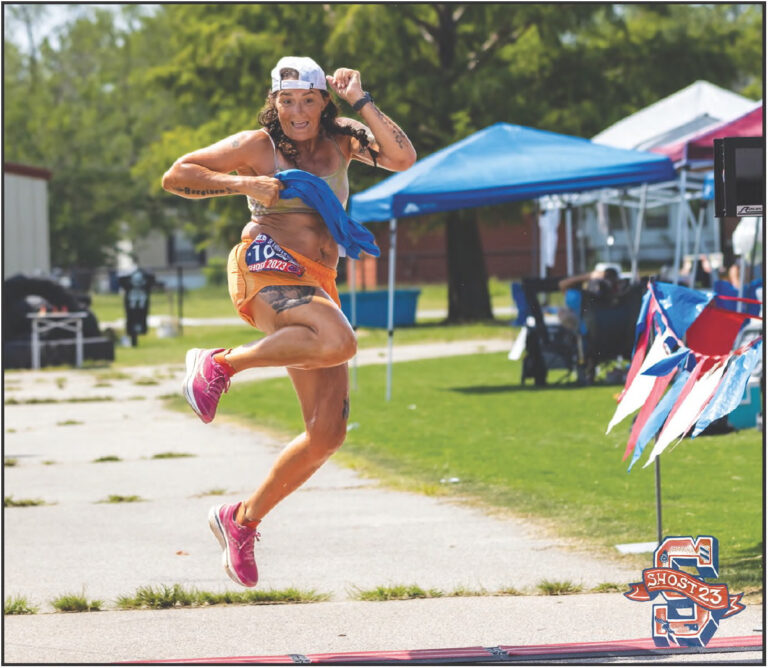 Casey finishes 4th female, 5th overall in Sweat Hot Oklahoma Summer Trials 2023
Last year Margaret Casey took first place in the women's division of the 6 hours challenge and 5th overall at the Sweat Hot Oklahoma Summer Trials in Nowata, running 26.4 miles in triple-digit temperatures. This year the 54-year-old Checotah resident came in 4th female, 5th overall in the 6-Hours competition, after battling a stomach bug that left her running for relief most of the race. Yet Casey still managed to beat her last year's record.
At this year's 2023 Sweat Hot Oklahoma Summer Trials, the temperatures again topped into the triple digits with a heat index of 110, as over 100 runners competed in the 5K, 6-Hr and 12-Hr courses.
"I had a pretty rough race this time with nausea and diarrhea for almost the whole six hours," Casey said. "I wasn't able to hold hardly anything down to stay hydrated. It was awful. I guess my legs and my heart were just in it though because I was determined to beat my own time from last year. I don't know how I did it, but I did it.
"Thank God for all the volunteers who kept encouraging me not to quit as they gave me Rolaids, Imodium, ginger ale and even ginger chews trying to help settle down my tummy issues. I really wanted to quit after the second loop but they kept pushing me and kept looking for other things to help me out.
"I think my biggest inspiration was when the girl who ended up winning first overall female in 6-Hr came running up beside me and we ran a couple laps together. She started telling me that she had looked at the race results from last year and saw that I had won, so she had come to beat me this time. I was like 'Oh, ok.' Though I kept feeling sick and I wanted to quit over and over again, I just couldn't let her beat me without a good fight. She had already lapped me once and I knew I had no chance of beating her but I still wanted to beat my own personal goal and then she would have to beat it too. Of course she did, but I didn't make it easy for her. I love the fact that people want to come and beat me, the 54 year old. The two girls that beat me were 37 years old and the other one was 27. So I'm pretty proud about that," Casey said with a smile.
Race coordinator Stacey Parsons Priddy gave props to everyone who took on this race for its second year.
"We're always so impressed by just how equipped and trained these runners are for the heat and the distance," Priddy said. "They have their own tents and stations set up, and we're merely there for the assistance.
"Nicole Laughton set the new course record of 66 miles on her way to 1st overall in the 12hour course. Throwing up many times and still just cruising to the finish line, she showed us all what's possible. Margaret Casey also proved she was a beast, finishing fourth in the 6-hour race even with a stomach bug. She lost last year's reign to Kimberly Burden who powered on to first place in the 6-hour race.
"Ice baths were plentiful and salt tabs were the road kill of the race. I think the majority of the runners hit the pain cave on this one with nausea being the norm. The sno-cone truck also came in clutch this year. However, these runners work hard to be conditioned for this heat. We had one 12-hour runner, Jonus Gerrits, who pulled a tire for a full marathon distance and then threw on a weighted vest.
"I also want to give shout outs to our photographer Arnold Begay who has been so invaluable to us. Not only is he the best photographer, but he's also a resident first aid and was a huge asset this weekend. Plus I:40 Race Service makes the race so seamless, and they even gave us live music this year. I'm just happy to be a part of this great event created by Alex Gramblin in his hometown of Nowata."
Sweat Hot Oklahoma Summer Trials 2023 Results: 12-HOUR COURSE 1st Nicole Laughton – Edmond, OK 66 miles (course record) 2nd Justin Franklin – Collinsville, OK 59.4 miles 3rd Jaclyn Long – Marietta, KS 56.1 miles 4th Wyatt Hockmeyer – Owasso, OK 52.8 miles 5th Joel Dutton – Yukon, OK 49.5 miles 6th Carrie OBryan – Claremore, OK 49.5 miles 6-HOUR COURSE 1st Kimberly Burden – OKC, OK 33.3 miles 2nd Sarah Jones – Sapulpa, OK 33.3 miles 3rd Greg Adams – Yukon, OK 29.7 miles 4th Kaci Thomas-Fields – Mustang, OK 29.7 miles 5th Margaret Casey – Checotah, OK 29.7 miles 6th Molly Fredericksen – Lawton, OK 29.7 miles Each loop of the course is 3.3 miles on a combination of asphalt city streets and gravel county roads that are open to traffic.
Tied distances were determined by the last fastest completed lap.
Official photos and more race results are posted on Sweat Hot Oklahoma Summer Trial 2023 social media page.
"There was definitely a lot of girl power this year and I'm proud to have been a part of it," Casey said.