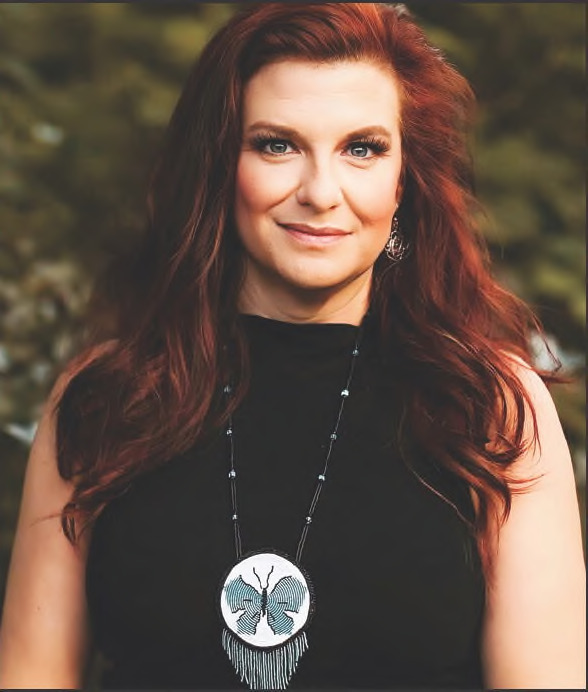 Eufaula graduate releases touching memoir
Eufaula High School graduate and Mvskoke citizen, Vanessa (McIntosh) Vancleave, recently released a touching memoir that was 20 years in the making. The book, "Hearing AIDS: How a Deaf Child with AIDS Taught Me to Hear Gods Voice" is the tragic yet triumphant story of Maegan, Vanessas step daughter, who valiantly battled AIDS and became deaf at a very tender age. The memoir honors this brave little girl who through her silent world taught others to listen more closely to Gods still, small voice.
"I've been working on the memoir for over 20 years," Vanessa said. "I kept thinking if I finished the book, it would be closing the chapter on Maegan's life. Now I realize it really meant opening a whole new chapter."
Vanessas roots run deep in McIntosh County. In fact the county was named after her ancestors whose members led the migration of the Lower Towns to Indian Territory and served as leaders for generations. Her father was Vann McIntosh, who was the director at Eufaula Boarding school for four years then served as Cooper McClain principal for over 10 years. Her mom was a fourth grade teacher and librarian at Eufaula, and her grandmother was Hazel McIntosh, the postmaster at Stidham for many years. Her sisters, Misty McIntosh and Valaina Frost still live near McIntosh County and her cousins, Roley and Stanley McIntosh run a dental practice in Eufaula.
"I grew up in rural Oklahoma and attended the Big Arbor Indian Baptist Church in Stidham where they sang Mvskoke songs every week. I first learned the power of the written word in first grade at Crowder Elementary School. My teacher, Concetta Gragg, made a big deal out of a poem I wrote about the dogwood tree. My pastor asked me to recite it at church on Easter Sunday, and my soul was awakened to the power of the written word to touch hearts.
"My love and calling as a writer flourished in high school at Eufaula. Jan Gaines was a teacher who gave me my first journal, and later on Mrs. Applegate continually encouraged me in my writing. At Connors State College, Wilmatine Griffin and Bridget Beaver both had a tremendous influence on me as a writer.
"I have always loved the power of stories and storytelling. I actually worked for the Eufaula Indian Journal as a copywriter the year after I graduated in 1992. It was there that I learned the power of stories, I think.
An excerpt from Vanessa's book
Living in a silent world doesn't mean you can't hear God's voice.
Before8-year-oldMaegan died with AIDS, she hid gift-wrapped trinkets and notes throughout the house for her parents to find after she went to heaven. One gift simply said "Hope." Maegan's story is precisely that: a message of hope that has touched the lives of millions around the world.
Maegan was born with HIV, and after her birth mother's death, Maegan was struck with spinal meningitis and became deaf. Her father, Jeff, was heartbroken and overwhelmed.
In 1991, Vanessa Van-Cleave began dating Jeff. And time with Jeff meant time with Maegan—a frustrated and confused child, who would point and scream because she could not communicate. Vanessa recognized Maegan's desperate desire for communication, so she began to teach her American Sign Language.
But it was Maegan who would ultimately become the teacher and Vanessa, the student.
Through this touching memoir, readers will: – Learn to watch for God's "sign language" in their lives – Find and fulfill their personal mission or purpose, like Maegan did – Be inspired by Maegan's unshakable faith Maegan knew her purpose and fulfilled her mission to teach others about love and Jesus before she went into her Father's arms in 1997. "Hearing AIDS: How a Deaf Child with AIDS Taught Me to Hear God's Voice" will inspire and challenge readers to examine their own purpose and mission while learning the true definition of hope and unconditional love.
More about the author
Vanessa VanCleave is a Mvskoke prayer warrior poet, teacher, and storyteller whose mission is to inspire, encourage, and motivate others to connect with God and live with purpose. After serving eighteen years as a sign language interpreter, she is currently the Curriculum Director and English/ASL Instructor at Schulter High School.
Vanessa graduated from Connors State College then went on to receive her Bachelor's Degree in English from East Central University in Ada. Years later she would return to obtain her Master's Degree in Education Curriculum and Instruction from the University of Missouri– Kansas City.
She also received ministry training at the Berean School of the Bible and Victory Bible Institute School of Worship and is a graduate of Christian Leaders Authors and Speakers Services (CLASS).
In 2000, Vanessa founded Hands of Hope Ministries, a nonprofit prayer and mission's organization dedicated to training up warrior poet messengers who know their mission and live with purpose.
Her essay "Happy Go Home" and poems "No Place Like Home" and "Do Not Resuscitate" won the Originals (East Central University's literary arts magazine) award for creative nonfiction and poetry two years in a row. Her articles have appeared in Today's Christian Woman and Guideposts magazines.
If Vanessa isn't spending time with her daughter, Savannah, or other family and friends, she is at the keyboard, in a prayer room, or in a classroom, teaching literature, poetry, American Sign Language, or how to write a mission statement. To find out more or to join her mission to train up an army of warrior poet messengers, visit vanessavancleave.com.