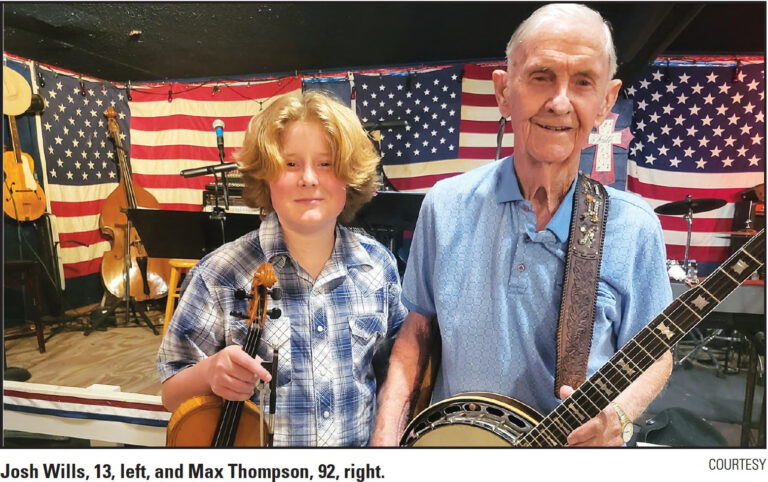 commentary
August 3, 2023
Plumb Theatre News
Plumb Theatre wants to take the time to say THANK YOU to the people of the community and surrounding areas for supporting our music shows for the last 20 years!
Our Friday night shows now have a new 13-year-old fiddle player and we just celebrated the 92nd birthday of our banjo player.
Josh Wills, our 13-year-old, has been playing for about four years. He enjoys oldtime and Appalachian fiddle tunes with his band. He is almost as excited to play with us as we are to have him. He is also an aspiring banjo player and songwriter. He recently won 3rd place at the Woody Guthrie songwriting contest. He is thrilled to be playing at the Woody Guthrie Festival this year.
Our oldest musician is 92-year-old banjo picking, singing comedian Max Thompson.
Max has been a loyal, faithful member of our band for about 15 years. You can always depend on Max for a good song, a funny story and a good visit.
A lot is going on in August – the 4th, the Alversons; the 11th, Crystal River;and Saturday night the 19th, T.C. Love will bring his special brand of country music.
We have gospel music every Friday night and music every Saturday night.
All roads lead to our 10th Gospel Fest- September 29 and 30.
There will be seven groups singing and playing Friday night.
Everyone needs to get their tickets as soon as possible. A limited num-I dren. They are always engaged and seeking solutions for problems and keep Oklahomans very informed about what is happening not only at the local office but also on state level. They are constantly involved in
Advocacy Center and Sexual Assault Response Teams serving children and adult victims of sexual abuse/assault. They provide a safe and confidential environment for victims to tell their stories and undergo forensic collections.