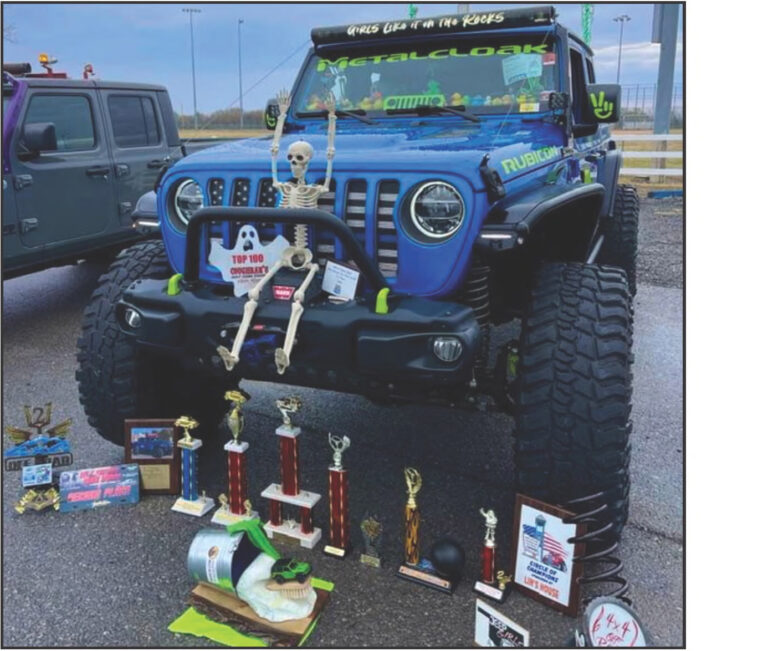 Ms. Independent and local mom featured in S&S Off-Road Magazine
Ms. Independent and local mom featured in S&S Off-Road Magazine Volunteers in memory of her daughter
Amber Ford and her 2020 Jeep Gladiator, Ms. Independent, have been winning car shows and awards in Checotah and the surrounding areas for a few years. However, being featured in the August 2023 edition of S&S Off-Road Magazine was the icing on the cake for this Oklahoma mom, who will celebrate a birthday on August 12. Ford, who lost her daughter Hailey two years ago on August 16 in a single-vehicle accident outside of Checotah, was previously dreading her upcoming birthday weekend.
"I really didn't feel like celebrating my upcoming birthday since Hailey passed just four days after my birthday in 2021. However, after I shared the information about this event, I decided I wanted to volunteer again to celebrate and give back to other children who still need to know someone cares. Hailey was always doing community events and loved helping kids like I do. So when I went down last year with my Mac Town Jeepers and got to meet some of the most amazing children, nurses, and counselors, it felt like she was there with me. I know Hailey wouldn't want me to quit helping others so I will be going back this year too.
"I've always loved entering my Jeep into different contests but ultimately I love my Jeeper weekend adventures the most. I've had this crazy goal that before Hailey's 2nd year of being gone, I wanted Ms. Independent to make it into a magazine. So when I found out in July that we made the August edition it meant so much to me.
'I love my Mac Town Jeepers and I also like helping with Arklahoma Jeepers, but being featured for volunteer work at Hot Springs Off-Road Park for Camp Sunshine was very special to me."
Camp Sunshine is a collaboration of Arkansas Children's Hospital Burn Unit and Arkansas Professional Fire Fighters Association to provide a four-day camp for burn survivors. During one of the four days, the children came out to the Hot Springs Off-Road Park and Jeepers gave the children rides, along with the medical personnel who were with each child and their camp counselors.
"The goal was to show the children the great outdoors in a unique way," Ford said. "The trails were marked and made easy so anyone could take part in the trail rides. All you needed was a mechanically sound off-road vehicle with doors and top on, seatbelts, roll cage, first aid kits, fire extinguishers and emergency radios to be able to have the children in your in rig.
"No pictures could be taken of the children due to protective orders as most of the children had burns due to parents, drug homes or others that had set them on fire intentionally or other factors. Some children were severely scarred and some were still healing, so all of them wore protective gear to protect them from the heat of the sun.
"The highlight of my day was the last ride when one of the workers stated that they had one child left and she had been waiting to ride in my Jeep. So, we hit the trails with this little blue-eyed, blonde girl thrilled to be riding in Ms. Independent. When we got to this really big rock she asked if my Jeep could climb it. I told her 'Yes, but everyone would have to be out of the Jeep.' So they got out and Ms. Independent climbs over the huge rock. The little girl was smiling from ear to ear. I got out of my Jeep and she got beside it and held her arms up like she was holding it up and said, 'Look how strong I am!' I told her 'Yes, you are very strong because you have already overcome so many obstacles in your life.'
"The whole experience brought tears to my eyes but happy ones as I got to share my daughter's memory with this precious little girl that reminded me so much of my Hailey. She loved my dashboard that's wrapped in Lilo & Stitch in my daughter's memory. We saw so many butterflies and the little girl would say, 'See, she is here with us.'
"I ended the day shedding some happy tears for sure. I wanted to honor Hailey's legacy of how she would help in community events and loved children and I wanted it to never end. So here I am with Hailey guiding me on things to do to make an impact on others and give others strength and hope when their world has been turned upside down too.
Since losing Hailey I have met so many in the Jeep community that have lost a child too. It's comforting when we can share in your grief and do check-ins on each other.
"It was a bittersweet day but I'm so glad I went and did it. I think Hailey sent that sweet, little girl to remind me that no matter the obstacle I can rise above it to see the beauty that still surrounds me."