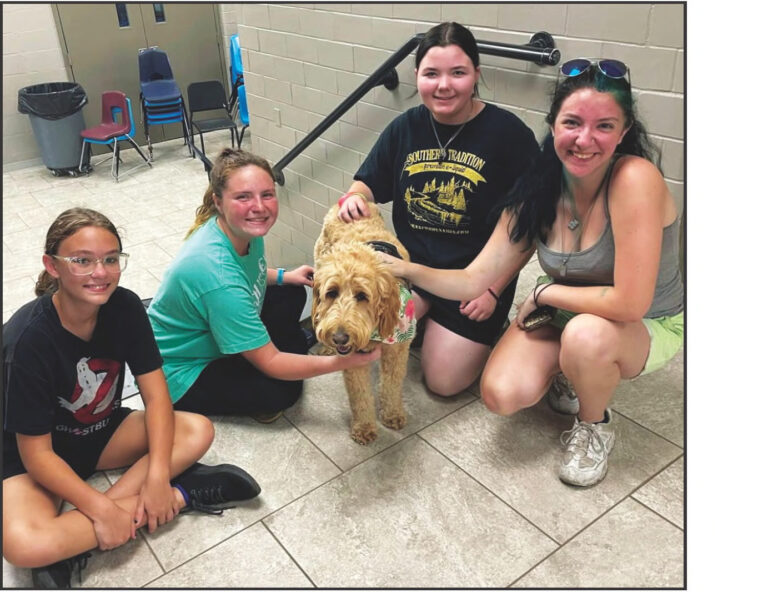 Therapy pups ready for another school year
Checotah Therapy pups, Lila and Tucker, are back at school and ready to help students for another school year.
Following the pandemic it became evident that students needed additional emotional support and that made many schools begin to think outside the box to deliver ways to support their students. Several colleges were using therapy dogs, especially during testing time and freshman orientation, to bring a calming effect on everyone and add value to the entire school experience. So when Morris schools offered a therapy puppy to Checotah schools they embraced the concept and challenge.
"Morris was having exceptional response with their therapy dog program and I wanted our students to have those same experiences," AWARE counselor Kendall Jones said. "And after seeing how well Morris students were responding to their program, we wanted to implement it into our school system and I am so glad we did. Now we see the bond between our students and our therapy pups, Lila and Tucker, and it's such a needed support system. What a difference they have made in just a year!"
The Project AWARE grant was started after the pandemic to build or expand the capacity of State Educational Agencies in partnership with State Mental Health Agencies and Local Education Agencies. Their main agendas were to increase awareness of mental health issues among students and provide training to school personnel and other adults who interact with students to detect and respond to mental health issues. They also wanted to connect students, who may have behavioral health issues, serious emotional disturbance or serious mental illness, and their families to needed services.
Project AWARE has added an additional licensed mental health professional in several districts, including Checotah. These individuals with the project AWARE team are working to ensure students' mental health needs are met within district buildings as well as increase partnerships and mental health awareness in the community.
Both Lila and Tucker are part of the Project AWARE team and have been a vital asset to not just Checotah but surrounding schools like Henryetta who lost several students in a horrible mass murder.
"Sometimes there are no words when something so tragic has happened, but just the presence of these caring canines literally changed the atmosphere when we visited Henryetta," Jones said. "This is why we do what we do every day to improve the lives of local students."
The community is invited to come out to the Wildcat Welcome on August 15 from 6 p.m. to 8 p.m. at Ogle Field. There will be vendor booths, face painting, corn hole competitions, hotdogs, food trucks and Wildcat introductions. The therapy pups will also be there to greet everyone and welcome them back to school.