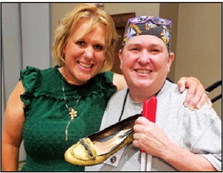 Local farmer promotes Oklahoma Women in Agriculture and Small Business
Local farmer Shelley McBride Lynch recently attended the 2023 Oklahoma Women in Agriculture and Small Business conference at the Hilton Garden Inn & Conference Center in Edmond to promote more women into the industry.
The Oklahoma Women in Agriculture and Small Business conference provided risk management education in the areas of production, marketing, financial, legal and human risks inherent to women-owned operations. Four general sessions and 24 concurrent workshops focused on educational information and resources to mitigate and manage risks through implementation of new methods and tools.
Some of the speakers included this year's keynote speaker Katie Dilse who Lynch really enjoyed listening and learning from during the 2-day conference. Dilse, a farmer from North Dakota, spoke on how to diversify operations and push forward as women in agriculture to make a difference.
Dr. Rebekah Hartfield from the Holdenville Veterinary Clinic also spoke about some of the common injuries and illnesses she sees every day and how to prevent them.
Then Julia Laughlin, Horticulture Specialist at Oklahoma County Extension, spoke on Alternative Crops for Direct Marketing. This is where a producer, like Lynch, sells directly to a consumer instead of having a middleman. Examples of direct marketing include using farmers' markets or selling directly to consumers rather than selling to a corporation grocery store.
"I'm not trying to beat Walmart's prices, I'm beating their quality," Lynch said. "Most people don't even realize that chicken meat is not white. It's only white after they bleach it to kill any bacteria on it. Chicken meat should be fresh and flesh-toned, not bleached and full of preservatives."
Lynch, who owns 3F's Poultry & Rabbit Processing, LLC, with her husband, Lee, operates her business with their children and grandchildren. Lynch's love for agriculture began when she was a child but earned her the honor of being named a Significant Woman in Oklahoma Agriculture in 2018.
"People don't realize that most of the time it's a woman in the background making the family decisions. Women are usually the ones who get the children fed and off to school, while keeping the home in order, paying the bills and tending to all the animals. We are the multitaskers.
"Because I'm a woman in a 'man's industry' I feel like I have to work harder, be smarter and communicate better just to compete on a regular basis. We have to know everything about our business before we even get started. Ironically, I believe behind every successful man there's a determined woman pushing him to be better.
"Women also have to think outside the box. That's why when the pandemic hit I literally paid one person in toilet paper because I understood the 'supply and demand factor' and had stocked up my freezers and toiletries. I also paid one person in feed for his animals and another in meat to feed his family.
"I have people that drive over two hours one way for my services and when they get tearful because we have to process these animals I always reassure them that we truly care about all these animals. In fact, we are some of the most compassionate and understanding people around here because we are raising our own food too. You are also raising our children and grandchildren to be humane growers and processors. I believe you can't be a good leader or a decent human being without having compassion for others and animals. So I'm raising my family to be compassionate, independent workers and leaders in our community.
"Kden is a great kid and works in the plant right by my side most the time. All my grandchildren understand the cycle of life and the importance of feeding quality food to your family. Because they work with me as we raise these animals and then process them, they see the whole process and they understand the cycle that has to take place to put food on our table every day.
Lynch raises approximately 2,000 meat birds and 1,000 meat rabbits and turkeys for Thanksgiving on her 3F's Feathers- n-Fur Farm each year. She also raises some cattle for beef.
"We are in the beginning stages of transitioning to be the first in the state certified organic poultry processor and even plan to open a farm store. 3F's actually stands for the 3F's Feathers–n-Fur Farm where we grow our livestock, the 3F's Processing Facility where we process our meat, and the 3F's Family Farm Store that we will be breaking ground on this year.
"In my mind you could open a farm store but you wouldn't have anything to put into it. You could even start a farm but you wouldn't have a place to process or send your products. So we started with the processing facility and have continued to grow the circle of 3F's. Now we can use the funds generated by our services to grow the other two businesses.
"I believe as the food industry keeps changing we are going to see the need to sustain our own communities with quality food to feed our families. It's my family's goal to bring our organic meat from our farm to our processing facility to our farm store to bring our neighbors and friends the best quality of meat products they can find in our area for generations to come."
3F's Poultry and Rabbit Processing Plant is located at 426643 Highway 266, Checotah. For more information call 918-843-0232 to support local women in agriculture.